State Economic Development Bulletin – July 2023
Headlines 
SEDE News
EDA Launches Recompete Pilot Program Funding Opportunity (U.S. EDA)
$42.45 Billion for High-Speed Internet Grant Program (Department of Commerce)
Building From a Strong Foundation (CREC-EDA Policy Academy)
Access, Process, and Outcome Framework (Argonne National Laboratory)
$60 Million Invested to Create a Climate-Ready Workforce (U.S. Department of Commerce)
Economy 
Inflation Drops To 3% In June (The New York Times)
A Soft Landing for The U.S. Economy? (Morgan Stanley)
Is the Wild Ride Over? Fed Faces Broader Debate as it Tees Up Rate Hike (Reuters)
Trade
Mexico Replaced China as America's Top Trade Partner (Business Insider)
U.S. Trade Deficit Narrows in May on Declining Imports (Reuters)
Decades Of U.S. Corn Export Dominance Fade as Brazil Seizes Top Supplier Crown (Reuters)
U.S. Moves to Restrict Trade Threatens Chip Industry (Reuters)
Industry Trends
Manufacturing Growth Is Strong. So Why Are We Subsidizing It? (Industry Week)
Unpacking The Boom in U.S. Construction of Manufacturing Facilities (U.S. Treasury)
Budding U.S. Offshore Wind Industry Facing Rough Seas (Louisiana Illuminator)
Workforce
Access To Capital for Entrepreneurs: Removing Barriers (The Kauffman Foundation)
Workforce Development Woven Throughout EDA Investments (U.S. EDA)
Women, Prime-Age Workers Return to The Labor Force (U.S. News)
Finance And Incentives
$43 Million Investment to Advance Innovation in Wood Products and Wood Energy (USDA)
$700 Million To Connect People in Rural Areas to High-Speed Internet (USDA)
Menlo Micro Decides to Build Chip Fab in Upstate New York (Times Union)
In Ohio, Electric Cars Are Starting to Reshape Jobs and Companies (The New York Times)
Oligo Factory Opens New State-Of-The-Art Oligo Manufacturing Facility (Yahoo Finance)
New $800m Sustainable Aviation Fuel Plant Planned for Washington State (The Seattle Times)
Governor Kemp Announces Pratt & Whitney Columbus Plant Expansion in GA (News 3)
---
SEDE News
EDA Launches Recompete Pilot Program Funding Opportunity (U.S. EDA) EDA received 125 responses to the Recompete Pilot Program RFI, which closed on March 27, 2023. The summary of responses to the RFI can be found here. The Recompete Pilot Program will invest $200 million toward projects that spur economic activity in geographically diverse and persistently distressed communities across the country. EDA released the Recompete Pilot Program Phase 1 Notice of Funding Opportunity, with seeking to alleviate persistent economic distress and support long-term comprehensive economic development and job creation, in places with a high prime-age (25 to 54 years) employment gap. This is a two-phase competition, with Phase 1 closing on October 5, 2023. The Notice of Opportunity for Phase 2 will be made available in Winter 2023.
$42.45 Billion for High-Speed Internet Grant Program (Department of Commerce) The Department of Commerce's National Telecommunications and Information Administration (NTIA) recently announced it has allocated funding to all 50 states, the District of Columbia, and five territories to deploy affordable, reliable high-speed Internet service to everyone in America. States, D.C., and territories will use funding from the $42.45 billion Broadband Equity, Access, and Deployment (BEAD) program to administer grant programs within their borders.
Building From a Strong Foundation (CREC-EDA Policy Academy) On April 27 – 28, CREC hosted the kick-off meeting for its Policy Academy to help six states improve alignment between states and economic development districts. Through the Academy-­ Colorado, Idaho, Kansas, Louisiana, Michigan, and Wisconsin – are embarking on a 10-month process to better align strategies and actions of their states, EDDs, and stakeholders. Each of the six teams created a common baseline and shared the framework necessary for implementing and sustaining the process transformation necessary for long-term and sustainable strategic alignment.
Access, Process, and Outcome Framework (Argonne National Laboratory) Argonne's Access, Process, and Outcome (APO) framework provides a common understanding for practitioners
across the diverse field of economic development to achieve more equitable outcomes in economic development through more inclusive processes. This framework highlights the underlying drivers that can influence outcomes, either positively through intentional investment and action, or negatively through neglect, oversight, or exclusion.
$60 Million Invested to Create a Climate-Ready Workforce (U.S. Department of Commerce) The Department of Commerce's National Oceanic and Atmospheric Administration (NOAA) opened a competitive funding opportunity for the Climate Ready Workforce for Coastal States, Tribes, and Territories Initiative to connect people across the country to good-paying jobs, such as landscape technicians, heat health outreach specialists and climate equity officers, that tackle the climate crisis and boost local resilience. NOAA will invest $60 million total from the Inflation Reduction Act for the initiative — a $50 million competitive funding opportunity and $10 million for technical assistance to support applicants and grantees. This announcement comes as a new Department of Energy report released yesterday found that last year, clean energy jobs increased in all 50 states and the District of Columbia and is part of a larger job creation trend in sectors that tackle the climate crisis.
---
Economy 
Inflation Drops to 3% in June (The New York Times) Inflation cooled significantly in June, offering some of the most hopeful news since the Federal Reserve began trying to tame rapid price increases 16 months ago — and boosting the chances that the central bank might be able to stop raising interest rates after its meeting this month. The Consumer Price Index climbed 3 percent in the year through June, according to recent data, less than the 4 percent increase in the year through May and just a third of its roughly 9 percent peak last summer.
A Soft Landing for the U.S. Economy? (Morgan Stanley) Morgan Stanley Research believes the U.S economy can achieve a "soft landing," which means slowing economic growth while avoiding a recession. The U.S. housing cycle, income and spending trends, a stable labor market and receding inflation point to a positive outcome. However, banking-sector turmoil and a resulting credit squeeze still pose some recession risk.
Is the Wild Ride Over? Fed Faces Broader Debate as it Tees Up Rate Hike (Reuters) Since the Federal Reserve decided to keep interest rates on hold at its June 13-14 policy meeting, U.S. central bank officials have given every indication they are ready to approve another small rate increase when they gather again. But recent data suggesting inflation has begun to slow in a faster and more persistent way will likely intensify their debate over whether the coming move will be the last one needed, with policymakers homing in on the key issue of whether the economy has fully absorbed the impact of the aggressive monetary tightening to date or is only beginning to adjust. In one case, more rate increases might be needed to ensure "disinflation" continues; in the other, weakened price pressures are already in the pipeline, and doing more could cause unnecessary damage to the economy and the job market.
---
Trade
Mexico replaced China as America's top trade Partner (Business Insider) Mexico has once again cemented its place as America's top trading partner, with $263 billion worth of goods passing between the two countries in the first four months of this year. Trade with Mexico accounted for 15.4% of goods exported and imported by the US, just ahead of America's trade totals with Canada and China, which were 15.2% and 12% respectively. Even as the world moves on from the height of the pandemic, Mexico's ability to take the top spot away from China — which had spent the last two decades integrating itself further into the U.S. economy — is a clear sign of how the economic chaos of 2020 is set to continue to define the world economy for years to come.
U.S. Trade Deficit Narrows in May on Declining Imports (Reuters) The U.S. trade deficit narrowed in May, with imports of goods dropping to their lowest level since late 2021 as higher borrowing costs slow domestic demand. The trade deficit decreased 7.3% to $69.0 billion, the Commerce Department said. Data for April was revised slightly to show the trade gap widening to $74.4 billion instead of $74.6 billion as previously reported. Imports of goods and services dropped 2.3% to $316.1 billion, the lowest level since December 2021. Goods imports fell 2.7% to $256.1 billion, the lowest level since October 2021.
Decades Of U.S. Corn Export Dominance Fade as Brazil Seizes Top Supplier Crown (Reuters) U.S. corn export dominance is fading in an increasingly competitive global marketplace as Brazil, aided by a new supply agreement with China, is set to out-ship the U.S. for just the second time. Meanwhile, Mexico is preparing to limit imports of genetically modified corn that comprises more than 90% of every U.S. harvest. The eroding export market share spells trouble for the $90 billion U.S. corn industry as domestic demand for feeding livestock and producing ethanol has also cooled. Plantings of America's most widely grown crop are likely to decline and farm incomes could suffer in the years ahead as a result, analysts said.
U.S. Moves to Restrict Trade Threatens Chip Industry (Reuters) The U.S. government's moves to restrict trade threatens globalization in the semiconductor sector and consumer interests, the China Semiconductor Industry Association said. "Any damage to the current global supply chain, which developed over the past decades alongside the process of globalization, could create inevitable and irreparable harm to the global economy," the association said in a statement. China's semiconductor industry welcomes open cooperation and will continue to innovate, the statement said. The industry association's statement came after U.S. chip company executives met with top Biden administration officials on Monday to discuss China policy.
---
Industry Trends
Manufacturing Growth Is Strong. So Why Are We Subsidizing It? (Industry Week) Despite recent growth in manufacturing, a long-term erosion of manufacturing jobs and a declining share of manufacturing in affluent western economies, have etched a deep impression in public perception that manufacturing in the West is in trouble. For some politicians, protecting domestic manufacturing has become a rallying cry. Passionate advocates are calling for new subsidies, tax breaks, tariffs, regulations and other measures.
Unpacking The Boom in U.S. Construction of Manufacturing Facilities (U.S. Treasury) The United States has experienced a striking surge in construction spending for manufacturing facilities. Real manufacturing construction spending has doubled since the end of 2021 The surge comes in a supportive policy environment for manufacturing construction – the Infrastructure Investment and Jobs Act (IIJA), Inflation Reduction Act (IRA), and CHIPS Act – each provided direct funding and tax incentives for public and private manufacturing construction. Three key dimensions describe the boom:
The boom is principally driven by construction for computer, electronic, and electrical manufacturing
Manufacturing construction is one element of a broader increase in U.S. non-residential construction spending
The surge appears to be uniquely American—not mirrored in other advanced economies.
Budding U.S. Offshore Wind Industry Facing Rough Seas (Louisiana Illuminator) Just as the U.S. is plunging into the deep end of offshore wind energy development, the industry is facing major supply chain problems, surging costs, permitting delays and other headwinds that could affect the aggressive installation timelines state and federal governments have targeted. Those obstacles, chiefly triggered by the pandemic, inflation and the Russian invasion of Ukraine, should prompt states to more closely collaborate on workforce development, transmission planning, building a domestic supply chain and other areas where they can work together to help keep costs down.
---
Workforce
Access To Capital for Entrepreneurs: Removing Barriers (The Kauffman Foundation)  Access to Capital for Entrepreneurs: Removing Barriers updates the data describing the national capital access and entrepreneurial support landscape that was originally presented in the 2019 report, while also layering in data from new sources that provide greater context into the experiences and challenges facing entrepreneurs in today's economy. This report includes additional data describing the capital access landscape in the Kansas City metropolitan area and in the Heartland states (Iowa, Kansas, Missouri, and Nebraska). A number of our recent capital access investments have been targeted there, which are highlighted throughout the report.
Workforce Development Woven Throughout EDA Investments (U.S. EDA) Workforce development is woven throughout EDA's investment portfolio as guided by our Investment Priorities and our key programs and funding opportunities provide multiple opportunities to bolster career and technical training programs.
Women, Prime-Age Workers Return to The Labor Force (U.S. News). More than a year of outsized gains in employment has shifted the discussion around work and brought the twin forces of labor supply and demand more closely into balance. For women, labor participation is at an all-time high of 77.8%. Workers in their prime years, defined by the government as 25-54, hit a high point in June. At 83.5%, their participation rate equaled a level last seen in August 2001. And while last week brought news of some market softening with "only" 209,000 new jobs created in June instead of the 230,000 or so forecast, the labor market remains tight by any historical standard.
---
Finance and Incentives
$43 Million Investment to Advance Innovation in Wood Products and Wood Energy (USDA) The U.S. Department of Agriculture is investing more than $43 million to expand innovative uses of wood, including as a construction material in commercial buildings, as an energy source, and in manufacturing and processing input for wood products used in framing homes, making paper products and more. These funds are being invested in 123 projects nationwide through Community Wood Grants and Wood Innovations Grants – longstanding Forest Service grant programs that promote innovation in wood products and renewable wood energy economies. Since 2015, the Wood Innovations and Community Wood Grant programs have provided more than $93 million to 381 recipients to support wood products and wood energy projects.
$700 Million To Connect People in Rural Areas to High-Speed Internet (USDA) The U.S. Department of Agriculture (USDA) announced $714 million in grants and loans to connect thousands of rural residents, farmers and business owners in 19 states to reliable, affordable high-speed internet.
Menlo Micro Decides to Build Chip Fab in Upstate New York (Times Union) Menlo Microsystems, a California company that makes electronic switches, or chips, for 5G cellphone networks, electronic cars and "smart home" devices, has decided to establish a $50 million chip factory outside Ithaca. New York has offered the company $6.5 million in state tax credits if the company hires 122 workers at the facility, which would be located in an existing building in Lansing, a town just north of Cornell University and Ithaca College.
In Ohio, Electric Cars Are Starting to Reshape Jobs and Companies (The New York Times) Ohio produces more internal combustion engines than any other state, making an adjustment to electric cars particularly urgent. Nearly 90,000 people work in Ohio for carmakers or parts suppliers, and several times that many are employed by businesses that serve those autoworkers and their families. The changes are putting Ohio at the forefront of a new technology that is critical to fighting climate change.
Oligo Factory Opens New State-Of-The-Art Oligo Manufacturing Facility (Yahoo Finance) Oligo Factory, an independent manufacturer of custom oligonucleotides at scale, announced recently it is opening a new oligo manufacturing and headquarters facility in Holliston, MA. Oligonucleotides have many applications including being used in genetic testing, research, and forensics. With over 13,000 sq ft of combined bench space, offices, and labs for Oligo Factory's next generation of synthesizers, the new facility increases Oligo Factory's manufacturing capacity by 12x. "Oligo Factory is uniquely positioned to help existing and new customers develop, launch, and accelerate growth of oligo-based research tools, diagnostics and therapeutics," said Chris Boggess, CEO of Oligo Factory. "This additional capacity along with the speed and efficiency of our synthesis process will enable us to scale with our customer's needs and market demands."
New $800m Sustainable Aviation Fuel Plant Planned for Washington State (The Seattle Times) Dutch company SkyNRG has chosen Washington state to locate a major new biogas plant that will produce sustainable aviation fuel — a key part of the airline world's push to decarbonize flying. In an interview on the sidelines of a Boeing conference on aviation sustainability in Renton, SkyNRG CEO Philippe Lacamp said he expects the plant to be operational by 2028 or 2029. Its construction will provide about 600 jobs and running it thereafter will provide about 100 permanent new jobs, he said.
Governor Kemp Announces Pratt & Whitney Columbus Plant Expansion in GA (News 3) Pratt & Whitney, which specializes in aircraft and helicopter engines, will expand their operations in Columbus, GA. The $206 million investment in the Columbus facility will create about 400 new jobs. "Not every state has the opportunity to announce new jobs and opportunities with an industry leader and great partner like Pratt & Whitney at the Paris Air Show," Kemp said. Pratt & Whitney has been a staple in the Columbus business community. The company has been open almost 40 years in a sprawling campus in the county's panhandle.
---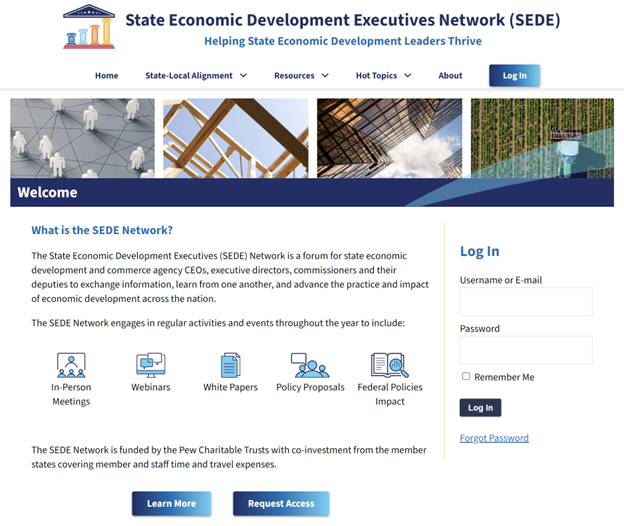 The State Economic Development Executives (SEDE) Network engages in regular events throughout the year. State Economic Development.org lists these activities and offers an interactive forum for discussion among peers.
The SEDE Steering Committee includes: Sandra Watson (AZ), Chair; Don Pierson (LA), Vice-Chair; Kurt Foreman (DE); Kevin McKinnon (MN); Christopher Chung (NC);  Andrew Deye (OH); Sophorn Cheang (OR); Adriana Cruz (TX); Joan Goldstein (VT); and Mike Graney (WV).
Leif Olson of the Center for Regional Economic Competitiveness (CREC) led the development of this Bulletin; for questions on the content in this Bulletin or for information on the SEDE Network contact Bob Isaacson, CREC Senior Vice President.