The Kick-Off Meeting for the CREC Policy Academy:                                                                                                                                                  Aligning State and Regional Economic Development Strategies and Actions
Much like in a building, a strong foundation serves as an important base for structural change. Indeed, a sturdy foundation provides the support necessary to withstand powerful challenges and allow for process transformation and organizational growth.
CREC's Policy Academy seeks to develop stronger relationships between state economic development agencies and economic development districts[1] (EDDs). Aligning state and EDD strategies and actions can be challenging and building a solid foundation to support any change is an important first step toward strengthening these relationships and creating new organizational processes and dynamics.
Through the Academy, six state teams -­ Colorado, Idaho, Kansas, Louisiana, Michigan, and Wisconsin – are embarking on a process to better align strategies and actions of their states, EDDs, and stakeholders. At a Kick-Off meeting hosted by CREC on April 27 – 28, 2023, each of the six teams created a common baseline and shared the framework necessary for implementing and sustaining the process transformation necessary for long-term strategic alignment. This foundational work also inspired participants to embrace the change needed to fully realize the benefits of organizational alignment and collaboration.
At the Kick-Off meeting, Bernadette Grafton and Brittany Sickler from the US Economic Development Administration (EDA), and Joe McKinney, Executive Director of the National Association of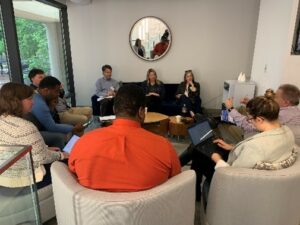 Development Organizations (NADO), highlighted the value of alignment between economic development organizations which set the stage for the Academy discussion. Afterward these initial comments, CREC project leaders discussed lessons learned from other areas of the EDA alignment project to help guide team conversations. The Academy discussion format enabled each state team to better understand perspectives and find common ground on issues facing their states and EDDs. The time together also allowed teams to develop and nurture relationships with other state teams, fueling important future peer learning.
During the one and a half day meeting, all six teams made significant strides toward crafting a vision to guide their work as they strived to better align their economic development ecosystems. Initial visions of alignment were wide ranging and included improving economic resiliency, fueling rural prosperity, deepening relationships, creating a collective statewide vision for economic development, and more. Teams also identified member roles and made initial steps toward developing workplans to guide their efforts over the next few months.
The Academy's unique approach promotes a customized process for each team. In the six weeks since the Kick-Off meeting, states have already made tangible progress on their individual Academy journey. For example:
Colorado articulated its vision and identified two early keys to success: 1) Ensure the state embraces the framework and 2) Foster commitment to communication.
Idaho developed goals and created committees to lead each goal area: 1) Create an organization and program Asset Map; 2) Develop common language within the Home Team; 3) Create planning calendar that includes deadlines and approvals; 4) Identify statewide organizations to convene players; and 5) Develop marketing strategy and materials.
Kansas identified important near-term workplan activities including a SWOT analysis, asset mapping and plans to identify current areas of alignment.
Louisiana met with the larger home team and stakeholders to develop familiarity and begin the process of identifying focus areas.
Michigan established three outcome goals: 1) Develop a summary of the shared priorities of the Upper Peninsula EDDs; 2) Create a process for the three EDDs to share priorities; and 3) Connect these strategies and activities to those of the state and other stakeholders.
Wisconsin developed a logic model specifying the vision and designed outcomes and outputs. The team is creating an inventory of communication channels and is identifying standard operating procedures for a new collaborative ecosystem.
Since the meeting in April, teams have offered positive feedback and support for the Academy. According to a follow-up survey, respondents consistently noted that the Kick-Off meeting helped them better understand how the Academy will drive alignment within their state. Comments included:
"The time is now to rethink our alignment between our state and the EDDs, no more living in a silo, we can win together!"
"EDA has helped forge a better working network of economic professionals."
"There is no public or private endeavor in the 21st Century that does not require a high degree of collaboration between different parties and systems."
"It is encouraging [to have] constructive conversations between our EDDs and State that otherwise would not have happened in the foreseeable future."
"Being part of the Policy Academy allows space and structure to spend time improving our state's policy infrastructure among our economic development partners."
Next Steps
Since the Kick-Off meeting, teams have strived to identify ways to move the alignment needle. Each team is working closely with the CREC facilitation team during the summer months to finalize their workplan and begin work on the nuts and bolts of their plan using this guiding framework:
The summer facilitator schedule will include on-site visits and monthly calls with team leaders to coordinate activities and maintain team momentum. Team leads will also participate in Academy team leader calls to discuss progress and learn from other teams' experiences.
Solid structures, organizations, and relationships come from solid foundations. The Academy's Kick-Off meeting provided the foundation to build strong and long-lasting change. The next blog post will focus on team workplans to highlight the outcomes each team aims to accomplish through the Academy.
[1] Economic Development Districts (EDDs) are multi-jurisdictional entities and designated by the Economic Development Administration (EDA). EDDs are commonly composed of multiple counties and help lead the locally-based, regionally driven economic development planning process that leverages the involvement of the public, private and non-profit sectors to establish a strategic blueprint (i.e., an economic development roadmap) for regional collaboration.
---
The blog was prepared by the Center for Regional Economic Competitiveness using Federal funds under award ED21HDQ3070060 from the Economic Development Administration, U.S. Department of Commerce. The statements, findings, conclusions, and recommendations are those of the author(s) and do not necessarily reflect the views of the Economic Development Administration or the U.S. Department of Commerce.