State Economic Development Bulletin – September 2023 
Headlines  
SEDE News 
Webinar: Creating Inclusive Opportunities for Businesses, CHIPS Act (NIST)  
Webinar: How Can States Help the CHIPS Act Succeed? (ITIF) 
Tech Hub Applications Show Nationwide Excitement (EDA) 
Webinar: Making the Case for State-EDD Alignment (SEDE) 
Marketing Your Alignment Changes (SEDE) 
How States Can Help the CHIPS Act Succeed (Smart Incentives) 
SEDE Hosts Meeting for Top Executives 
Economy   
U.S. Incomes Fall for Third Straight Year (Wall Street Journal)  
Latest U.S. Economic Data Shows Heat (Axios) 
Economy Grew Modestly in Recent Weeks (Reuters) 
Trade 
Trade Deficit Widened Less than Expected in July (Business Standard)  
Trade Ties with China Are Stronger than they Seem (The NY Times)  
Industry Trends 
Automation Anywhere's Report Unveils 2023 Trends (Acceleration Economy)  
Place-Based Strategies Can Help the Nation's Advanced Industries (Brookings Institute) 
The Threat of Supply Chain Insecurity (Semiconductor Engineering)  
Workforce 
Alabama Announces Bioscience Training Program (Alabama Political Reporter)  
Fast-Track Work for Migrants in Illinois (ABC7 Chicago) 
Nebraska Announces Workforce Working Group (Nebraska Office of the Governor) 
A Summer of Strikes (The NY Times) 
Finance And Incentives 
Manufacturing Facility Bringing Jobs to Cedar Rapids (CBS 2 Iowa) 
Semiconductor Company Negotiating Incentives with Austin (Austin American-Statesman) 
Battery Manufacturing Plant Coming to Illinois with $530M Incentive Deal (Yahoo News) 
Hyundai Could Get $2.1B to Make Electric Cars in Georgia (Fox 5 Atlanta) 
DOE Offers $15.5B to Boost Battery and EV Manufacturing (TechCrunch) 
Joby Selects Dayton, Ohio for First Scaled Manufacturing Facility (Yahoo News) 
SEDE News 
Webinar: Creating Inclusive Opportunities for Businesses, CHIPS Act (NIST) On August 22, NIST held a webinar guiding applicants through the importance of supplier diversity and developing strategies for creating inclusive opportunities for small, minority-owned, veteran-owned, and women-owned businesses. Supplier diversity is an important priority for CHIPS applicants to consider; the webinar discussed four best practices for developing a supplier diversity plan, as well as a new resource, the Teaming Partner List, to assist applicants in building partnerships. Watch the full webinar here.  
Webinar: How Can States Help the CHIPS Act Succeed? (ITIF) On September 6, NIST hosted a webinar with state and industry leaders regarding how states can successfully implement the CHIPS Act. States will play a particularly important role in CHIPS Act implementation, especially with workforce development, university research, infrastructure, and permitting. Leaders from New York, Arizona, and Texas were joined by the Semiconductor Industry Association and the CHIPS Program Office for this discussion. Watch the full webinar here.  
Tech Hub Applications Show Nationwide Excitement (EDA) EDA announced the receipt of hundreds of applications covering 48 states and three territories for Phase 1 of the Regional Technology and Innovation Hubs (Tech Hubs) competition. Phase 1 of this competition will designate Tech Hubs in regions across the country that bring together industry, higher education institutions, state and local governments, economic development organizations, and labor and workforce partners. Later this year, the Department of Commerce will launch Phase 2 of the competition for applicants designated as a Tech Hub to apply for implementation funding. EDA expects to designate at least 20 Tech Hubs across the country. 
Webinar: Making the Case for State-EDD Alignment (SEDE) On September 6, a webinar was hosted on the strategic alignment and collaboration between states and Economic Development Districts (EDDs). The webinar began with a brief overview of the six state-EDD teams working in CREC's Policy Academy to improve their alignment. Following the Academy introduction, Trish Thibodo of Colorado's Region 10 and Michele McFarlane of Idaho's Region IV Development Association spoke about their Policy Academy experiences and how their teams are pursuing state-EDD alignment. The webinar recording and slides can be found here.  
Marketing Your Alignment Changes (SEDE) Please join us for an October 6th webinar where two state leaders will discuss the techniques they use to market the changes they that are implementing to better align with local partners including economic development districts. You will leave the webinar with insights on how to get others to accept and embrace the changes you're executing – whether or not you are part of CREC's Policy Academy on strategic alignment. Webinar speakers will be Anne Villa, Undersecretary with Louisiana Economic Development, and Beth Haskovec, Director for the Office of Rural Prosperity with the Wisconsin Economic Development Corporation. You can register for the webinar here. 
How States Can Help the CHIPS Act Succeed (Smart Incentives) According to the state economic development leaders, longstanding state efforts to attract and expand semiconductor facilities are an important enabler for the federal CHIPS Act, which is designed to bring semiconductor manufacturing back to the United States to enhance economic and national security. State and local incentives for semiconductor R&D and manufacturing are not only required for companies seeking access to federal incentives, but states also have a long history of working with and supporting the industry in other ways, especially for workforce development. 
SEDE Hosts Meeting for Top Executives. The State Economic Development Executives (SEDE) Network is holding a Winter 2024 meeting for state economic development executives or their deputies in Las Vegas on January 28 and 29. Tom Burns (Executive Director of Nevada Governor's Office of Economic Development) and his team will be hosting the meeting. The agenda will include discussions of current issues facing states and many opportunities for networking among the state economic development commissioners, secretaries and executive directors or their top deputy. Registration will be available soon. 
Economy   
U.S. Incomes Fall for Third Straight Year (Yahoo News) According to new U.S. Census Bureau data, U.S. inflation-adjusted incomes fell for a third straight year in 2022, but overall income inequality decreased. The data paints a mixed picture for the economy, with the overall decline in incomes falling more sharply for some people than others, due largely to the impact of inflation. Real median household incomes fell by 2.3% in 2022 from the previous year, with nominal gains canceled out by record-high inflation. However, income inequality fell by 1.2%, driven by a fall in real income at the middle and top of the income distribution. 
Latest U.S. Economic Data Shows Heat (Axios) For all the talk of soft landings and fading inflation pressure, the latest round of data on the U.S. economy still shows some heat. Demand across the U.S. economy remains solid — a key reason the nation has dodged a recession. The flip side is the possibility that inflation will be more persistent than policymakers anticipate, owing to factors the Federal Reserve can't control: energy prices. Retail sales rose 0.6% in August — much more than economists expected. That was largely due to higher prices at gasoline stations, where receipts increased by 5.2%. But excluding gas stations and auto shops, spending still powered ahead, increasing 0.2% (instead of the outright decline forecasters expected). Spending is still solid across a range of categories, including clothing stores, electronics shops and health stores. 
Economy Grew Modestly in Recent Weeks (Reuters) U.S. economic growth was modest amid a cooling labor market and slowing inflation pressures in July and August, according to the Federal Reserve. This data reinforces expectations by observers that the central bank was either done, or close to being done, with interest rate increases. Data since the last Fed rate hike six weeks ago has tended to support that view, with the economy adding an average of 150,000 jobs per month over the last three months, down sharply from the prior three months. Inflation, as gauged by the Fed's preferred measure, was 3.3% in July, down from 7% last summer. Still, prices continue to rise faster than the Fed's 2% goal, employers are adding many more than the monthly 100,000 jobs needed to meet population growth, and economic output appears to be far outpacing the less-than-2% annual growth rate Fed officials say is sustainable in the long run. 
Trade 
Trade Deficit Widened Less than Expected in July (Business Standard) The U.S. trade deficit widened in July by less than forecast. The shortfall in goods and services trade grew to $65 billion. The value of exports rose 1.6%, while imports increased 1.7%. Exports of industrial supplies and autos increased. The rise in imports reflects a rise in consumer goods, especially cellphones and household goods, as well as capital equipment.  
Trade Ties with China Are Stronger than they Seem (The NY Times) The U.S. has spent the past five years reducing its reliance on China for computer chips, solar panels, and various consumer imports. But even as policymakers and corporate executives look for ways to cut ties with China, a growing body of evidence suggests that the world's largest economies remain deeply intertwined as Chinese products make their way to America through other countries. China's share of U.S. imports fell to about 17% in 2022 after peaking at about 22% in 2017, as the country accounted for a smaller share of America's imports in categories like machinery, footwear and telephone sets. As that happened, places like Vietnam gained ground — supplying the United States with more apparel and textiles — while neighbors like Mexico began sending more car parts, glass, iron, and steel. That would seem to be a sign that the United States is lessening its reliance on China. But there's a hitch: Both Mexico and Vietnam have themselves been importing more products from China, and Chinese direct investment into those countries has surged. While more research is needed, the effect could be slightly contributing to consumer inflation.  
Industry Trends 
Automation Anywhere's Report Unveils 2023 Trends (Acceleration Economy) Automation Anywhere has released its "2023 Automation Now & Next: State of Intelligent Automation" report, showing many key findings. First, 88% of respondents say AI is key to successful automation, revealing how the past year's AI boom has impacted the automation market and how powerful these two technologies are perceived by business leaders when presented as a combined force. Second, there's been a 17% budget increase in intelligent automation year on year, demonstrating how the technology has grown on the list of organizations' business-critical priorities. Finally, 95% of respondents said their enterprise encourages citizen development, amplifying the importance of widespread adoption and participation if companies want to realize the true potential of intelligent automation technology. 
Place-Based Strategies Can Help the Nation's Advanced Industries (Brookings Institute) Place-based industrial strategies are a mechanism for getting more leverage on economic problems, whether it's geopolitical competition, climate change, or inequality. Yet equally high on the list of such critical problems is the imperative of boosting vitality in the nation's "advanced industry" clusters. The Infrastructure Investment and Jobs Act, CHIPS and Science Act, and Inflation Reduction Act promise $2 trillion in infrastructure, innovation, and green-transition investment over the next decade and should help restore U.S. competitiveness in advanced industries. Yet the location of advanced industry activity means that the initiatives won't be sufficient to revitalize individual local clusters throughout the nation. Instead, "place-based" investments—such as those in EDA's new Regional Technology and Innovation Hubs program and the National Science Foundation's Regional Innovation Engines initiative—will likely be necessary to truly address gaps in local clusters, tech ecosystems, or entrepreneur-support systems.  
The Threat of Supply Chain Insecurity (Semiconductor Engineering) Concerns about counterfeit chips are growing as more chips are deployed in safety- and mission-critical applications, prompting better traceability and new and inexpensive solutions that can determine if chips are new or used. But some counterfeit chips still slip through, and the problem gets worse wherever there are shortages. There are various reasons why and how counterfeiting happens, with the most obvious being cost savings. Many manufacturers experience price pressure and have to produce products that are cost-neutral. This may drive them to find cheaper ways to develop their products. With this mindset, they are likely to receive counterfeit components. The counterfeiting problem is growing as the supply chain widens, and it's bigger than most manufacturers suspect. 
Workforce 
Alabama Announces Bioscience Training Program (Alabama Political Reporter) Governor Kay Ivey announced that BIO Alabama has partnered with Alabama Industrial Development Training, the state's workforce training agency, to introduce a comprehensive Bioscience Technician Program. This program will equip prospective candidates with the necessary skills and knowledge to pursue careers in the biotech industry. The Bioscience Training Program offers candidates starting wages of $20 per hour, reflecting the industry's commitment to recognizing talent.  
Fast-Track Work for Migrants in Illinois (ABC7 Chicago) Illinois Governor J. B. Pritzker and Chicago Mayor Brandon Johnson co-wrote to the Biden Administration urging it to streamline work authorization rules that would allow the states to sponsor noncitizens to work in industries facing labor shortages. They hope to allow migrants who have been in the U.S. for years to legally contribute to the workforce and support their families. Manufacturing, retail, and hospitality businesses are struggling to find qualified workers. More than 13,000 asylum-seekers have come to Chicago from the border this year, with this new proposal allowing for increased employment opportunities.  
Nebraska Announces Workforce Working Group (Nebraska Office of the Governor) Governor Jim Pillen has convened a new working group to examine the state's workforce issues, particularly its ongoing labor shortage and how to attract workers to the state. The assembled group consists of lawmakers, higher education officials, business leaders, and chambers of commerce. The working group aims to find creative solutions to address the growing workforce shortages in the state, especially because Nebraska has one of the lowest unemployment rates in the nation, creating a unique challenge for worker attraction.  
A Summer of Strikes (The NY Times) This year, workers across industries in the United States have increasingly gone on strike. In July, tens of thousands of actors joined screenwriters on the picket line, bringing Hollywood to a halt. Meanwhile, a summertime strike of more than 300,000 United Parcel Service workers seemed imminent before a deal was reached last month. Now, another large-scale strike by the United Auto Workers union has been implemented.  Strike activity increased slightly in 2021 and 2022 after a lull during the pandemic. Much of this can be attributed to the historically strong economic recovery. Official government statistics include only strikes involving 1,000 or more workers. A database maintained by Cornell University's School of Industrial and Labor Relations, which includes strikes of all sizes, has recorded 251 work stoppages so far this year. Some see the resurgence of strikes and union organizing as a lasting trend.  
Finance and Incentives 
Manufacturing Facility Bringing Jobs to Cedar Rapids (CBS 2 Iowa) A partnership between the City of Cedar Rapids, the State of Iowa, the Metro Economic Alliance, and Sub-Zero Group Inc., an appliance manufacturing group from Wisconsin, is expected to create a new manufacturing facility in the city. The facility will be worth $140 million and is expected to bring in 200 new jobs. The southwest Cedar Rapids location will be 400,000 square feet, hosting new machinery and equipment. It is set to open in 2025. 
Semiconductor Company Negotiating Incentives with Austin (Austin American-Statesman) Semiconductor company NXP is considering a $290.8 million project dubbed "Project Live Oak" that would include retooling manufacturing lines at its two existing Austin, TX fabrication facilities. The company is pursuing an agreement with the city that could include property tax reimbursement worth as much as $1.026 million over five years. The company is also hoping to benefit from the CHIPS Act, especially with the State of Texas passing its own state level "CHIPS Act," which creates a state fund and consortium with representatives from Texas higher education institutions. The city documents estimated NXP could see $14.54 million in CHIPS funding, for a total of $15.57 million in city and federal funding. 
Battery Manufacturing Plant Coming to Illinois with $530M Incentive Deal (Yahoo News) Gotion, a Chinese battery manufacturing and development company, announced on Friday that it will build a lithium-ion battery manufacturing facility in Manteno, about 50 miles south of Chicago. The roughly $2 billion project is set to create 2,600 jobs and begin production in 2024. The plant will produce battery cells and battery packs such as those used in electric vehicles and large-scale energy storage systems. In total, the state and local governments offered Gotion more than $536 million in incentives and tax breaks.  
Hyundai Could Get $2.1B to Make Electric Cars in Georgia (Fox 5 Atlanta) The State of Georgia and local governments are on track to give $2.1 billion in tax breaks and other incentives to Hyundai Motor Group after the South Korean automaker and a partner announced last month that it will invest an additional $2 billion at an electric vehicle complex it is building in Georgia. Associated Press calculations show projected incentives will rise by more than $290 million from the $1.8 billion deal originally announced last year. Only $2.75 million of that represents additional cash from the state. The rest will come from increases in tax breaks. The deal calls for Hyundai and battery maker LG Energy Solution to invest $7.6 billion in the Georgia plant and hire 8,500 workers by the end of 2031. It's the largest economic development deal in Georgia history and comes with the largest incentive package. 
Biden Offers $15.5B to Boost Battery and EV Manufacturing (TechCrunch) The U.S. Department of Energy is dedicating $15.5 billion to support the transition to electric vehicles. Most of the money will go to automakers and suppliers to retool their plants to produce electric, hybrid, and hydrogen fuel cell electric vehicles. A total of $12 billion ($2 billion in grants and $10 billion in loans) will directly support automotive manufacturing conversion projects for light-, medium- and heavy-duty EVs. The remaining $3.5 billion will go toward expanding domestic manufacturing of batteries for EVs and the nation's grid, as well as battery materials and components that have historically been imported from other countries. Manufacturers will be able to apply for grants through the DOE's Office of Manufacturing and Energy Supply Chains or for preferable debt financing through the DOE's Loan Program Office. Preference will be given to companies with plants in communities with a history of automotive manufacturing and to projects that commit to paying high wages for production workers and maintain collective bargaining agreements. 
Joby Selects Dayton, Ohio for First Scaled Manufacturing Facility (Yahoo News) Joby Aviation plans to build a facility capable of delivering up to 500 electric vertical take-off and landing aircraft per year at the Dayton International Airport, supporting up to 2,000 jobs. Construction of the 140-acre Ohio facility is expected to start in 2024 and it is expected to come online in 2025. The State of Ohio, JobsOhio and local political subdivisions have offered incentives and benefits of up to $325 million to support the development of the facility, while Joby plans to invest up to $500 million as it scales operations at the site. Joby's selection of Ohio as the site for its first scaled aircraft production facility followed an extensive competitive site selection process and is contingent upon standard due diligence, state and local approvals of incentives, permitting and other legal and regulatory matters that customarily accompany such investment projects.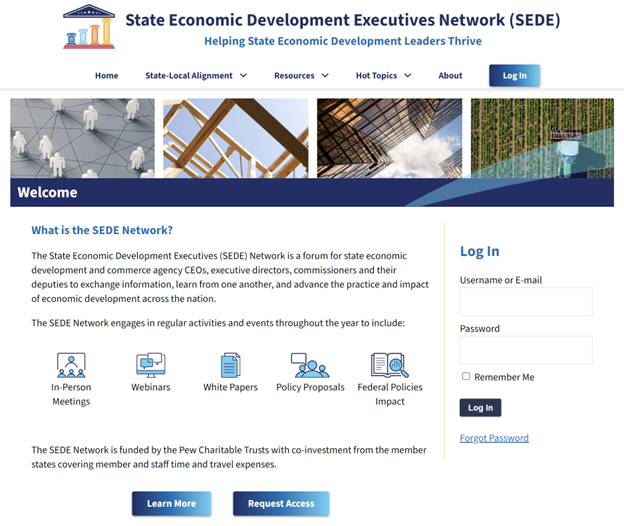 The State Economic Development Executives (SEDE) Network engages in regular events throughout the year. State Economic Development.org lists these activities and offers an interactive forum for discussion among peers.  
The SEDE Steering Committee includes: Sandra Watson (AZ), Chair; Don Pierson (LA), Vice-Chair; Kurt Foreman (DE); Kevin McKinnon (MN); Christopher Chung (NC);  Andrew Deye (OH); Sophorn Cheang (OR); Adriana Cruz (TX); Joan Goldstein (VT); and Mike Graney (WV).  
Allison Ulaky of the Center for Regional Economic Competitiveness (CREC) led the development of this Bulletin; for questions on the content in this Bulletin or for information on the SEDE Network contact Bob Isaacson, CREC Senior Vice President.