State Economic Development Bulletin – August 2023
Headlines 
SEDE News
New Department of Commerce Resources: Invest.gov (The White House)
Updates to CHIPS Incentive Portal (NIST)
Webinar: How Can States Help the CHIPS Act Succeed? (ITIF)
SEDE Hosts Meeting for Top Executives
Economy 
U.S. Extends Job Growth Streak (The New York Times)
Employment Increased in 105 Metropolitan Areas from June 2022 (U.S. BLS)
Consumer Price Index – July 2023 (U.S. BLS)
Trade
Declining Imports Compress U.S. Trade Deficit in June (Reuters)
Biden Signs H.R. 4004 Implementing U.S. Trade Pact with Taiwan (The White House)
Sputtering Trade Fuels Fears of a Fractured Global Economy (The Wall Street Journal)
Industry Trends
Infrastructure Spending is Powering the Economy (The Washington Post)
The New Era of Industrial Policy is Here (Harvard Business Review)
Indiana Tests if the Heartland Can Transform Into a Chip Hub (The New York Times)
Top 10 Emerging Technologies of 2023 (World Economic Forum)
Workforce
Wells Fargo Pledges $60 Million for Worker Re-entry Program (Reuters)
Why Workers Aren't Returning to the Office Full Time (Wall Street Journal)
Finance And Incentives
Department of Commerce Invests $748,849 for Manufacturing in TN (U.S. EDA)
Colorado Chosen for Solar Cell Manufacturing Plant (The Denver Post)
First Solar Chooses Louisiana to Build Fifth US Panel Factory (Reuters)
Vietnam Car Maker Begins Build for North Carolina Electric Vehicle Plant (Associated Press)
Gov. Moore Announces Second Round of Funding for Manufacturing 4.0 Program (The Baynet)
American Packing Corp. New $100M Manufacturing Facility in Cedar City (St. George News)
A Change to R&D Expensing is Pummeling Small Businesses (Inc.)
---
SEDE News
New Department of Commerce Resources: Invest.gov (The White House) The White House, with the Department of Commerce, has created a new website called invest.gov. The website features an interactive map illustrating levels of public and private investment across states and territories due to various legislation including the American Rescue Plan, the Bipartisan Infrastructure Law, the CHIPS and Science Act, and the Inflation Reduction Act.
Updates to CHIPS Incentive Portal (NIST) In the coming weeks, the CHIPS Program Office will be updating its Incentive Portal to assist applicants in categorizing their existing and future submissions based on the updated eligibility information in the funding opportunity. Guides and templates will also be updated to address newly eligible potential applicants. The latest CHIPS webinar, held on June 29, focused on Financial Information for Full Applications Part II and is available here, along with previous webinars. SEDE will soon be hosting a webinar for the CHIPS Program Office to provide some updates to the SEDE Network.
Webinar: How Can States Help the CHIPS Act Succeed? (ITIF) On Wednesday, September 6 from 10:30am to 12:00pm EDT the Information Technology & Innovation Foundation will host a webinar on a discussion with state leaders about how to successfully implement the CHIPS Act. States will play a particularly important role, not only because of their own contributions to the funding, but also because of their roles in related efforts that are necessary for success, including workforce development, university research, infrastructure, and permitting. Register here to attend this webinar.
SEDE Hosts Meeting for Top Executives. The State Economic Development Executives (SEDE) Network is holding a Winter 2024 meeting for state leaders in Las Vegas on January 28 and 29. Tom Burns (Executive Director of Nevada Governor's Office of Economic Development) and his team will be hosting the meeting. The agenda will include discussions of hot issues facing states and many opportunities for networking among the state economic development commissioners, secretaries and executive directors or their top deputy. Registration for the state economic development executive or their deputy will be available soon.
---
Economy 
U.S. Extends Job Growth Streak (The New York Times) American employers added 187,000 jobs in July, resulting in the nation experiencing 31 continuous months of growth. The unemployment rate decreased to 3.5%, close to a record low. Average hourly earnings rose 4.4% from the prior year. Overall, employment has not only exceeded 2019 levels, but is approaching its pre-pandemic trendline. However, risks such as the hot summer temperatures, labor strife, and the resumption of student loan payments in October may impact employment outcomes for the remainder of the year.
Employment Increased in 105 Metropolitan Areas from June 2022 (U.S. BLS) Nonfarm payroll employment either increased or remained stable from June 2022 to 2023 in nearly every metropolitan area, with only one experiencing a decline. The largest percentage gains in employment occurred in Midland, Texas (+8.3%), Odessa, Texas (+6.7%), and Charleston-North Charleston, South Carolina (+6.3%). Nonfarm employment increased in 40 metropolitan areas with a 2010 Census population of 1 million or more. In these large metropolitan areas, the largest percentage increases occurred in Jacksonville, Florida (+5.1%), Dallas-Fort Worth-Arlington, Texas (+5.0%), and Las Vegas-Henderson-Paradise, Nevada (+4.7%).
Consumer Price Index – July 2023 (U.S. BLS) The U.S. Bureau of Labor Statistics reported that the Consumer Price Index rose 0.2% in July on a seasonally adjusted basis, the same increase as in June. The CPI rose 3.2% from a year ago. The largest contributor to the monthly inflation increases came from shelter costs, which rose 0.4% and increased by 7.7% from a year ago. Real wages adjusted for inflation increased 0.3% and were higher by 1.1% since last July. While inflation is lower, it is still above the 2% level of the Federal Reserve's target.
---
Trade
Declining Imports Compress U.S. Trade Deficit in June (Reuters) The U.S. trade deficit narrowed in June as businesses cut back on purchases of foreign-made capital goods, resulting in imports falling to the lowest level in one and a half years. Imports are falling as businesses carefully manage inventory in anticipation of softer demand. Data also shows a decline in wholesale inventories in June. Imports of goods and services declined 1.0% to $313 billion, the lowest level since November 2021. Inventories are a key part of GDP; excluding autos, wholesale inventories fell 0.7% in June.
Biden Signs H.R. 4004 Implementing U.S. Trade Pact with Taiwan (The White House) President Joe Biden signed legislation on August 7 implementing the "United States-Taiwan Initiative on 21st-Century Trade First Agreement Implementation Act." The Act would impose requirements on the negotiations of certain further trade agreements between the U.S. and Taiwan. Sections of the Act raise constitutional concerns; Biden states that those sections, which require transmission of trade deal drafts to Congress, are non-binding.
Sputtering Trade Fuels Fears of a Fractured Global Economy (The Wall Street Journal) The downturn in world trade, demonstrated by decreasing Chinese exports and a decline in U.S. imports, reflects a phase of weak global economic growth. Global trade is currently weak mostly because demand for goods is weak, and higher interest rates in the U.S. and Europe have led to a greater slowdown. The International Monetary Fund expects growth in global trade to slow to 2% this year from 5.2% last year. Economists at the IMF mainly blame sluggish overall growth for this trend, but also express concerns about the long-term effects of geopolitical rivalries on global trade. For example, the U.S. is expected to announce curbs on investment in Chinese technology companies to restrict access to American expertise following last year's restrictions on the export of advanced semiconductors and chip-manufacturing equipment. Economists worry that a reversal of this century's boom in trade may carry a heavy economic cost.
---
Industry Trends
Infrastructure Spending is Powering the Economy (The Washington Post) A surge in government funding and private investment will contribute to numerous infrastructure and green energy projects across the country. The Biden Administration estimates that three pieces of legislation – the Inflation Reduction Act, CHIPS and Science Act, and Infrastructure Investment and Jobs Act – will eventually lead to $2.5 trillion in funding over the next decade, which includes $1 trillion from private businesses. As a result, large-scale infrastructure development has boomed, leading to a turn in economic potential and an upward trend in gross domestic product expectations for the year.
The New Era of Industrial Policy is Here (Harvard Business Review) Governments around the world are increasingly intervening in the private sector through industrial policies designed to help domestic sectors reach goals that markets alone are unlikely to achieve. Companies in targeted sectors—such as automakers, energy companies, and semiconductor manufacturers—may experience dramatic changes in their operating environments. The policies could create new costs or deliver significant financial incentives to shift R&D or manufacturing investments. They might also incent firms to alter their supplier networks or change their trading partners.
Indiana Tests if the Heartland Can Transform Into a Chip Hub (The New York Times) Indiana hopes to turn into a microchip manufacturing and research hub, almost entirely from scratch. This decision is due to funding through the CHIPS and Science Act and makes Indiana a prime case study for whether the administration's efforts will pan out. Unlike other states such as Arizona and Texas which have long had chip-making plants, Indiana has little experience. However, the state has some advantages such as ample land and water, as well as research expertise from Purdue University, and the chip-making transformation is now centered on developing a tech park. Indiana beat out four other states for SkyWater's $1.8 billion chip factory, indicating potential for further growth. Indiana officials are now anticipating how this tech transformation will impact the heartlands and what the potential for receiving CHIPS Act funding will be.
Top 10 Emerging Technologies of 2023 (World Economic Forum) The Top 10 Emerging Technologies of 2023 report outlines the technologies poised to positively impact society in the next three to five years. The report broadens its scope beyond describing the top 10 technologies and associated risks and opportunities to include a qualitative assessment of how each technology is set to impact people, the planet, prosperity, industry, and equity. These technologies include flexible batteries, generative artificial intelligence, and sustainable aviation fuel, among others.
---
Workforce
Wells Fargo Pledges $60 Million for Worker Re-entry Program (Reuters) Wells Fargo stated that it may commit $60 million to Concordance, a nonprofit organization that helps workers with criminal records re-enter the workforce. The bank is also considering hiring individuals with criminal records in the future. Companies have been advocating for hiring individuals with criminal records to both provide a second chance opportunity and to assist with the shortage in the labor force. Roughly a quarter of the U.S. population is left out of the talent pool due to criminal records.
Why Workers Aren't Returning to the Office Full Time (Wall Street Journal) Workers say high costs, caregiving duties, long commutes, and the continued use of virtual meetings are keeping them at home, along with the lingering sense that they are able to do their jobs competently from anywhere. Escalating expenses associated with working in-person such as meals, commutes, and childcare are further deterring workers from coming back to the office full time. Managers, however, are pushing to get employees back into the office. The gap between what employees and bosses want remains wide with many working parents stating that if pandemic-era flexible schedules go away, many would drop out of the workforce.
---
Finance and Incentives
Department of Commerce Invests $748,849 for Manufacturing in TN (U.S. EDA) EDA awarded a $738,849 grant to the University of Tennessee in Knoxville, TN, to bolster the state's manufacturing sector. The grant will develop and implement a manufacturing growth model designed to improve workforce participation, focusing on distressed, disaster impacted, and coal impacted communities.
Colorado Chosen for Solar Cell Manufacturing Plant (The Denver Post) Meyer Berger, a Swiss manufacturer of solar cells and molecules, will locate a new manufacturing plant in Colorado Springs. The new plant is expected to bring up to 380 jobs, paying an average wage of $77,842, which is nearly 130% of the average annual wage in El Paso County. Project managers, operators, facility managers, process engineers, and maintenance personnel are among the positions that will be added. The Colorado Economic Development Commission approved $4.9 million in Job Growth Incentive Tax Credits for the company, and an additional $84 million in incentives coming from county and state sources. Combined, that is roughly $234,210 in combined state and local support per job being created.
First Solar Chooses Louisiana to Build Fifth US Panel Factory (Reuters) First Solar (FSLR.O) it has selected Louisiana to build its fifth U.S. factory amid a surge in demand for American-made solar panels. The company plans to invest $1.1 billion to set up the facility at Acadiana Regional Airport in Iberia Parish in the southeastern state. The project is expected to be completed by the first half of 2026 and would add 3.5 gigawatts of manufacturing capacity for the company, First Solar said.
Vietnam Car Maker Begins Build for North Carolina Electric Vehicle Plant (Associated Press) A Vietnamese company planning an electric vehicle plant in central North Carolina that would employ 7,500 workers met a milestone on July 28th as its top executive joined Gov. Roy Cooper and others for a ground-breaking ceremony. VinFast announced last year that it would build its first manufacturing facility outside Vietnam in Chatham County, about 30 miles (48 kilometers) southwest of Raleigh. The planned $4 billion investment also would create North Carolina's first car manufacturing plant and North Carolina's largest-ever, state-backed economic development project as far as job creation, according to news outlets. North Carolina had missed out on car plants over the years to other Southeastern states.
Gov. Moore Announces Second Round of Funding for Manufacturing 4.0 Program (The Baynet) Maryland Governor Wes Moore announced funding to support the Maryland Manufacturing 4.0 program, a growing initiative that provides grants to small and mid-sized Maryland manufacturers to invest in Industry 4.0 technologies. The second round of funding will provide businesses with a total of $1 million to modernize their operations. Industry 4.0 represents the fourth industrial revolution, focusing on the digitization and automation of manufacturing facilities to help companies remain competitive and drive business growth.
American Packaging Corp. New $100M Manufacturing Facility in Cedar City (St. George News) Cedar City, Utah welcomed the opening of American Packaging Corporation with a new $100 million, 275,000 square foot manufacturing facility. The company has already hired 35 new team members and expects to grow to 75 by the end of 2023. Over the next several years, the company anticipates growing to 300-400 people. Cedar City was chosen due to a desire to expand to the West, the size of the site, rail access, and a business-friendly community.
A Change to R&D Expensing is Pummeling Small Businesses (Inc.) Research and development incentives are supposed to spur innovation. But a federal R&D tax change implemented at the start of last year is stifling the work of some entrepreneurs. In the past, small businesses have been able to immediately write off their R&D expenditures. But the Tax Cuts and Jobs Act of 2017, eliminated the option to deduct R&D expenses beginning in 2022. Businesses now must amortize these expenses over a five-year period. This can lead to higher tax bills for entrepreneurs, which add up for those operating on thin margins. Lawmakers have drafted legislation to address these concerns.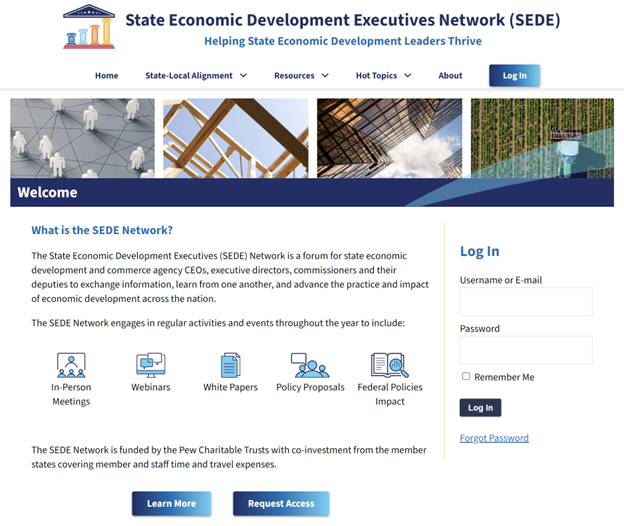 The State Economic Development Executives (SEDE) Network engages in regular events throughout the year. State Economic Development.org lists these activities and offers an interactive forum for discussion among peers.
The SEDE Steering Committee includes: Sandra Watson (AZ), Chair; Don Pierson (LA), Vice-Chair; Kurt Foreman (DE); Kevin McKinnon (MN); Christopher Chung (NC); Andrew Deye (OH); Sophorn Cheang (OR); Adriana Cruz (TX); Joan Goldstein (VT); and Mike Graney (WV).
Leif Olson of the Center for Regional Economic Competitiveness (CREC) led the development of this Bulletin; for questions on the content in this Bulletin or for information on the SEDE Network contact Bob Isaacson, CREC Senior Vice President.