State Economic Development Bulletin 
Headlines 
Economic Performance 
Applications For U.S. Unemployment Aid Rose Slightly Last Week (Associated Press)
CPI For All Items Falls 0.1% In December as Gasoline Decreases (Bureau of Labor Statistics)
U.S. Job Openings Stayed High in Sign of Economic Resilience (Associated Press)
Economic Outlook
New Fed Research Flags Rising Risk of U.S. Recession (Reuters)
As Inflation Eases, U.S. Economy Looks A Little Less Bleak (CBS News)
Beige Book Brings Some Positive Signs on Inflation (Federal Reserve Bank of Atlanta)
SEDE News 
SEDE Hosts Meeting for Top Executives
January 31st SEDE Webinar: Creating Resilient Supply Chains
Trade
Biden Admin Bows Slightly to European Pressure in Trade Clash (Politico)
U.S. Puts 3 dozen More Chinese Companies on Trade Blacklist (ABC News)
India, U.S. Establish New Trade Group to Bolster Supply Chains (Reuters)
Industry Trends
U.S. Manufacturing Output Tumbles in December (Reuters)
Tesla Deliveries Miss Estimates Due to Logistical Issues, Slowing Demand (Reuters)
Startups Spring from Ashes of Big Tech Purge (Reuters)
Workforce
Move on from COVID? Child Care Disruptions Continue (Associated Press)
Abortion, Cannabis, Equal Pay Among Top Labor Issues for States in 2023 (Reuters)
One Billion Days Lost: How COVID-19 Is Hurting the U.S. Workforce (McKinsey)
Finance And Incentives
Origin Materials Announces Louisiana State Bond Commission Approval for Origin 2 (TMC Net)
'Green Banks,' Poised for Billions in Climate Funds, Draw States' Attention (Pew)
Vermont Takes a Regional Approach to Rural Broadband Expansion (Pew)
---
Economic Performance 
Applications For U.S. Unemployment Aid Rose Slightly Last Week (Associated Press) The number of people seeking unemployment benefits rose only slightly in the week of December 18th, with the labor market remaining strong despite the Federal Reserve's efforts to cool the economy. Applications for unemployment aid for the week ending Dec. 24 climbed 9,000 to 225,000, the Labor Department reported. The four-week average of applications, which smooths out some of the week-to-week swings, slipped just 250 to 221,000. So far, the level of jobless claims remains quite low, evidence that Americans are enjoying a high degree of job security.
CPI For All Items Falls 0.1% In December as Gasoline Decreases (Bureau of Labor Statistics) The Consumer Price Index for All Urban Consumers (CPI-U) declined 0.1% in December on a seasonally adjusted basis, after increasing 0.1% in November. Over the last 12 months, the "all items" index increased 6.5% before seasonal adjustment. The index for gasoline was by far the largest contributor to the monthly all items decrease, more than offsetting increases in shelter indexes. The food index increased 0.3% over the month with the food at home index rising 0.2%. The energy index decreased 4.5% over the month as the gasoline index declined; other major energy component indexes increased over the month.
U.S. Job Openings Stayed High in Sign of Economic Resilience (Associated Press) U.S. job openings slipped in November but remained high, suggesting businesses are still determined to add workers. There were 10.46 million job vacancies on the last day of November, down slightly from 10.51 million in October, according to the Labor Department. Openings peaked at 11.9 million in March. Yet, figures show there are nearly 1.8 jobs for every unemployed person, down from a peak of 2 but historically very high. Before the pandemic, there were usually more unemployed people than jobs. Such a high number of job openings suggests the economy is not yet in recession or close to falling into one. Typically, businesses stop advertising job openings as the economy stumbles.
---
Economic Outlook
New Fed Research Flags Rising Risk of U.S. Recession (Reuters) Just over half of the 50 U.S. states are exhibiting signs of slowing economic activity, breaching a key threshold that often signals a recession, new research from the St. Louis Federal Reserve Bank reports. The St. Louis Fed said in its report that if 26 states have falling activity within their borders, that offers "reasonable confidence" that the nation will fall into a recession. Right now, the bank said that 27 states had declining activity in October. That's enough to point to a looming downturn while still short of the numbers that have been seen ahead of some other recessions.
As Inflation Eases, U.S. Economy Looks A Little Less Bleak (CBS News) In recent weeks, with inflation showing widespread signs of easing, a more cheerful view of the U.S. economy has gained traction: Maybe a recession isn't inevitable after all. U.S. wage acceleration is slowing, and the job market remains stable. These trends are raising expectations that the Fed might manage to engineer an often-elusive "soft landing," whereby the economy slows but doesn't go into reverse and the unemployment rate rises slightly but stays low. "All the signs are pointing to a higher, not a lower, probability of a soft landing," said Alan Blinder, a Princeton University economist who formerly served as vice chair of the Fed. "It may still not be more than 50-50. But 50-50 is looking better than it was a few months ago."
Beige Book Brings Some Positive Signs on Inflation (Federal Reserve Bank of Atlanta) From mid-November through December last year, the gap between labor supply and demand appeared to narrow, and nonlabor cost increases slowed, according to the Federal Reserve Bank of Atlanta's new Beige Book report of economic conditions in the Southeast. Broadly, economic activity grew gradually as retailers reported solid holiday sales, auto sales rose, and leisure travel and tourism business were brisk. On the other hand, home sales declined, commercial real estate conditions weakened, and transportation activity slowed. Fed policymakers are closely tracking the labor market as they battle high inflation. Several Atlanta Fed contacts said entry-level jobs were easier to fill even as it remained tough to fill higher-skilled positions. Overall, staffing remained a major concern and businesses for the most part say they're determined to keep talent even if demand slows for goods or services. Most said they will try to avoid layoffs and trim labor costs through attrition if business deteriorates.
---
SEDE News 
SEDE Hosts Meeting for Top Executives: The State Economic Development Executives (SEDE) Network is building on the success of the June 2022 meeting by holding a Winter 2023 meeting for state leaders in New Orleans. The meeting will begin at noon on Monday, February 27th and conclude at noon on Tuesday, February 28th, 2023. SEDE Steering Committee Vice-Chair Don Pierson and the Louisiana Economic Development team are hosting the meeting and have scheduled a tour of the NASA Michoud Assembly Facility. The agenda will include discussions of hot issues facing states and many opportunities for networking among the state economic development commissioners, secretaries and executive directors or their top deputy. Registration for the state economic development executive or their deputy is available here.
January 31st SEDE Webinar, Creating Resilient Supply Chains: Join the SEDE Network in a conversation with Zack Valdez, Chief of Staff, U.S. Dept. of Energy Office of Manufacturing and Energy Supply Chains; Buckley Brinkman, CEO of the Wisconsin Center for Manufacturing & Productivity (the MEP Center for WI); and Nikhil Kalathil, PhD student in the Department of Engineering and Public Policy at Carnegie Mellon University on creating sustainable and resilient supply chains.
Our speakers' presentations will focus on a range of topics including: the role that sustainability – both economic and environmental – plays in supply chain support, the state-level perspective on utilizing supply chain data, and the role that economic development agencies can play in supporting state-level supply chains through economic dynamism.
---
Trade
Biden Admin Bows Slightly to European Pressure in Trade Clash (Politico) The Biden administration signaled some flexibility in how it would implement a revised tax credit for electric vehicles in the new Inflation Reduction Act which has rankled the European Union and other trading partners. The Treasury Department, in a new "white paper", indicated it would adopt an expansive definition of which countries have a "free trade agreement" with the United States. The department also issued guidance for a separate tax credit for clean commercial vehicles which isn't as stringent as the one for new consumer car sales.  That could provide some opportunities for overseas manufacturers through dealerships that lease cars to consumers. The EU welcomed the move, calling it "a win-win" for both sides.
U.S. Puts 3 dozen More Chinese Companies on Trade Blacklist (ABC News) The U.S. Department of Commerce is adding 36 Chinese high-tech companies, including makers of aviation equipment, chemicals, and computer chips, to an export controls blacklist, citing concerns over national security, U.S. interests and human rights. The move signals a hardening of U.S. efforts to prevent China, especially its military, from acquiring advanced technologies such as leading-edge computer chips and hypersonic weapons. It's the latest in a years-long escalation of U.S. restrictions of Chinese technology that began with President Donald Trump and has continued under President Joe Biden's administration.
India, U.S. Establish New Trade Group to Bolster Supply Chains (Reuters) India and the United States have established a new working group to build sustainable supply chains and boost bilateral trade, the governments said in a joint statement. The working group will initially focus on trade facilitation, digitization of customs procedures, issues related to sustainable finance and the scaling up of innovative clean technologies, according to the statement issued after a Trade Policy Forum meeting in Washington D.C. India's trade minister, Piyush Goyal, also said the two countries are looking at larger bilateral footprints for trade and investments than mini deals, with a focus on greater market access and ease of doing business. U.S. companies are also looking to invest more in India, he added. "U.S. companies have ambitious plans and are looking to invest large capital and bring technology to India," said Goyal.
---
Industry Trends
U.S. Manufacturing Output Tumbles in December (Reuters) Production at U.S. factories fell more than expected in December and output in the prior month was weaker than previously thought, indicating that manufacturing was rapidly losing momentum as higher borrowing costs hurt demand for goods. Manufacturing output dropped 1.3% in December and data for November was revised lower to show production at factories decreasing 1.1% instead of the previously reported 0.6%. Economists polled by Reuters had forecast factory production would decline 0.3%. Output fell 0.5% on a year-on-year basis in December. It decreased at a 2.5% annualized rate in the fourth quarter.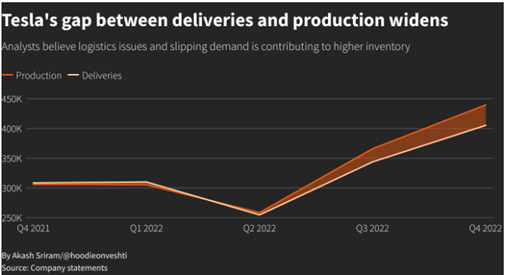 Tesla Deliveries Miss Estimates Due to Logistical Issues, Slowing Demand (Reuters) Tesla Inc (TSLA.O) said quarterly deliveries fell short of market estimates on Monday, held back by ongoing logistical issues and growing demand concerns that rounded off a tumultuous 2022.
The company is still the world's most valuable automaker even after losing 65% of its market value in 2022. Shares fell 8.5% to $112 on Tuesday. Tesla delivered 405,278 vehicles in the fourth quarter ended Dec. 31, short of analysts' estimates of 431,117, according to Refinitiv. For all of 2022, the electric-vehicle maker's deliveries rose by 40%, missing its 50% annual target.
Startups Spring from Big Tech Drawdown (Reuters) U.S. tech giants including Meta, Microsoft, Twitter, and Snapchat have reduced staffing by more than 150,000, according to Layoff.fyi, which tracks technology job losses. While overall venture capital financing fell 33% globally to about $483 billion in 2022, early-stage funding was robust, with $37.4 billion raised in so-called angel or seed rounds, in line with the record level seen in 2021, according to data from research firm PitchBook. Some investors compared the 2022 downturn to the dotcom crash of the early 2000s, when dozens of overvalued startups went bust, flooding the market with talent, and helping to spark a wave of new companies such as Facebook and YouTube. Some industry players say former Big Tech employees are uniquely placed to start their own companies, having seen first-hand how some of the biggest firms in the world operate, and enjoying ongoing access to their network of highly skilled colleagues.
---
Workforce
Move on from COVID? Child Care Disruptions Continue (Associated Press) This fall and winter have upended life for working parents of little children, who thought the worst of the pandemic was behind them. The arrival of vaccines for younger children and the end of quarantines for COVID exposure were supposed to bring relief. Instead, families were treated to what some called a "tripledemic." Flu, COVID-19, and respiratory syncytial virus (RSV) cases collided, stressing children's hospitals, and threatening the already imperiled childcare system. A record-high 104,000 people missed work in October because of childcare problems, surpassing even early pandemic levels, Bureau of Labor Statistics data shows. Childcare-related absences fell to 59,000 in November, but numbers still surpass typical pre-pandemic levels.
Abortion, Cannabis, Equal Pay Among Top Labor Issues for States in 2023 (Reuters) State lawmakers in the coming year will consider how some of the most contentious issues facing the country, including recreational cannabis, abortion access and equal pay, will affect the workplace.
Pay Transparency: On Jan. 1, California and Washington will join Colorado, New York City and several other locales that have adopted so-called pay transparency laws, while a statewide law takes effect in New York in September. Alaska, Massachusetts, Pennsylvania, and South Carolina are among the states expected to take up similar proposals in 2023. Supporters say disclosing salary up front makes it less likely that employers will offer lower pay to women and minorities and allows workers to see how their compensation compares to their colleagues.
Abortion: About half of U.S. states are expected to adopt new abortion restrictions or begin enforcing existing ones, but the status of those restrictions is uncertain as lawsuits wend their way through courts across the country.
Marijuana: A growing number of U.S. states have legalized marijuana use, with Maryland and Missouri doing so most recently, and are now taking steps to protect workers' off-duty medical or recreational marijuana use. Washington, D.C., and at least eight states including California, New York, and New Jersey have adopted laws barring employers from firing workers or refusing to hire applicants who use marijuana outside of work.
One Billion Days Lost: How COVID-19 Is Hurting the U.S. Workforce (McKinsey) COVID-19 has gradually become a part of the U.S. landscape. Changes in official policy have indicated as much, as has the public's clear acceptance of the risks of the disease. These shifts are consistent with the scenarios that we and others have described: COVID-19 is now endemic in the United States. COVID-19 affects workforce productivity in four ways:
Missed work due to acute illness. The average symptomatic person loses some productive working time because of COVID-19, and the amount of time lost varies.
Productivity loss due to long COVID. Long COVID is a complex and poorly understood syndrome.
Missed work due to isolation based on COVID-19 protocol. While compliance is far from universal, some people, irrespective of symptoms, do follow the U.S. Centers for Disease Control and Prevention's (CDC's) recommendation to isolate for at least five days after testing positive.
Productivity loss while caregiving for a dependent family member. Cases in dependent family members can also lead to workdays lost, as parents may have to care for sick children (or grandparents).
Across all four categories, McKinsey estimates that each case of COVID-19 in the United States currently causes workers to lose between 1.0 and 1.5 days of work. The final analysis indicates that the U.S. workforce might have lost around 1 billion workdays in 2022 due to COVID-19.
---
Finance And Incentives
Origin Materials Announces Louisiana State Bond Commission Approval for Origin 2 (TMC Net) Origin Materials, Inc. the world's leading carbon negative materials company, announced that the Louisiana State Bond Commission has unanimously passed a resolution granting its final approval of the issuance of up to $1.5 billion of tax-exempt bonds for the financing for the construction of Origin 2, the Company's first world-scale manufacturing facility, to be located in Geismar, Louisiana. Building on the strong foundation of the previously announced expected $400 million in Private Activity Bond ("PAB") volume cap allocation, the Bond Commission has authorized issuing bonds of up to $1.5 billion, inclusive of the PAB cap, to support construction and commissioning of Origin 2. This could enable the debt financing of Origin 2 using entirely tax-exempt bonds.
'Green Banks,' Poised for Billions in Climate Funds, Draw States' Attention (Pew) Congress last year approved a Greenhouse Gas Reduction Fund of $27 billion, largely to pour money into green banks and similar financial institutions. Newly established green banks from Nevada to Illinois are readying for federal support that could supercharge their efforts, while bipartisan leaders in places such as New Mexico and Alaska are pushing to create their own state green banks. Green banks provide financing to support climate-friendly projects, often focusing on energy savings and solar generation in residential and commercial buildings. Such projects have struggled to obtain capital from traditional financing institutions. Established green banks say their successes should prompt more states to follow suit. "The clean energy projects pay for themselves," said Jeff Diehl, CEO and executive director of the Rhode Island Infrastructure Bank. "The energy that's being created through renewable assets or money that is saved through energy efficiency upgrades pays for the financing."
Vermont Takes a Regional Approach to Rural Broadband Expansion (Pew) In 2015, the Vermont General Assembly passed legislation allowing towns and cities to collaborate and form communications union districts (CUDs) to provide broadband service. In the years since, CUDs have become a central component of Vermont's efforts to close the digital divide. Regional districts change the market dynamics of broadband projects in several ways. First, they aggregate demand across a large area, which helps create a sufficient customer base to make infrastructure projects financially feasible. They also boost the efficiency of service delivery by using one large network, rather than multiple systems serving individual communities. In 2021, the state's General Assembly created the Vermont Community Broadband Board (VCBB) "to coordinate, facilitate, support, and accelerate the development and implementation of universal community broadband solutions." The VCBB provides administrative and technical support to CUDs—which are largely volunteer-led—facilitates partnerships between regional districts and ISPs, and administers the Vermont Community Broadband Fund, which was also established in 2021. In addition to the state's funding, Vermont allocated more than $240 million in State and Local Fiscal Recovery Fund and Capital Projects Fund dollars through the American Rescue Plan Act (ARPA) to support the state's goal of universal broadband access at speeds of 100 Mbps symmetrical. Vermont plans to continue investing in CUDs with broadband funding available through the Infrastructure Investment and Jobs Act (IIJA).
---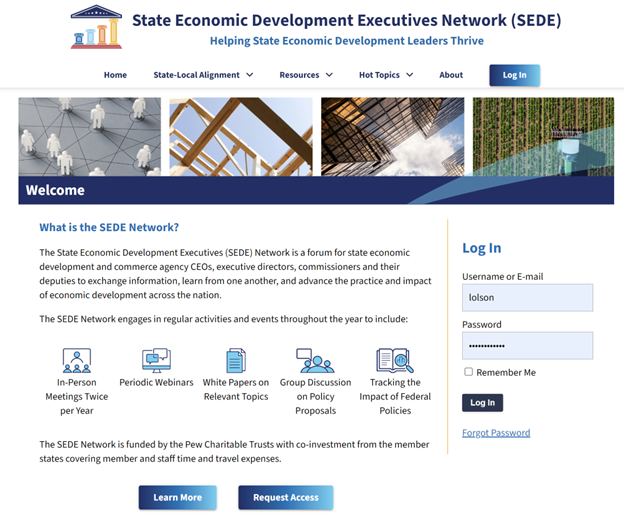 The State Economic Development Executives (SEDE) Network engages in regular events throughout the year. State Economic Development.org lists these activities and offers an interactive forum for discussion among peers. The website is currently undergoing some minor reorganization including adding resources on how state and local economic development districts can align strategies and collaborate on activities.
The SEDE Steering Committee includes: Sandra Watson (AZ), Chair; Don Pierson (LA), Vice-Chair; Mike Preston (AR); Kurt Foreman (DE); Kevin McKinnon (MN); Christopher Chung (NC); Alicia Keyes (NM); Michael Brown (NV); Andrew Deye (OH); Sophorn Cheang (OR); Adriana Cruz (TX); Joan Goldstein (VT); Lisa Brown (WA) and Mike Graney (WV).
Leif Olson of the Center for Regional Economic Competitiveness (CREC) led the development of this Bulletin; for questions on the content in this Bulletin or for information on the SEDE Network contact Bob Isaacson, CREC Senior Vice President.