Latest News
U.S. Census Provides Monthly State Retail Sales Data (U.S. Census Bureau). The U.S. Census is launching a new experimental data product featuring modeled state-level retail sales. The Monthly State Retail Sales (MSRS) report features interactive state-level data visualizations that combine data from the Monthly Retail Trade Survey, administrative data, and third-party data. The first month's data covers June 2020, and it will continue to be published monthly on an ongoing basis. Within the report, year-over-year percent changes are available for total retail sales excluding non-store retailers as well as for 11 North American Industry Classification System (NAICS) retail subsectors.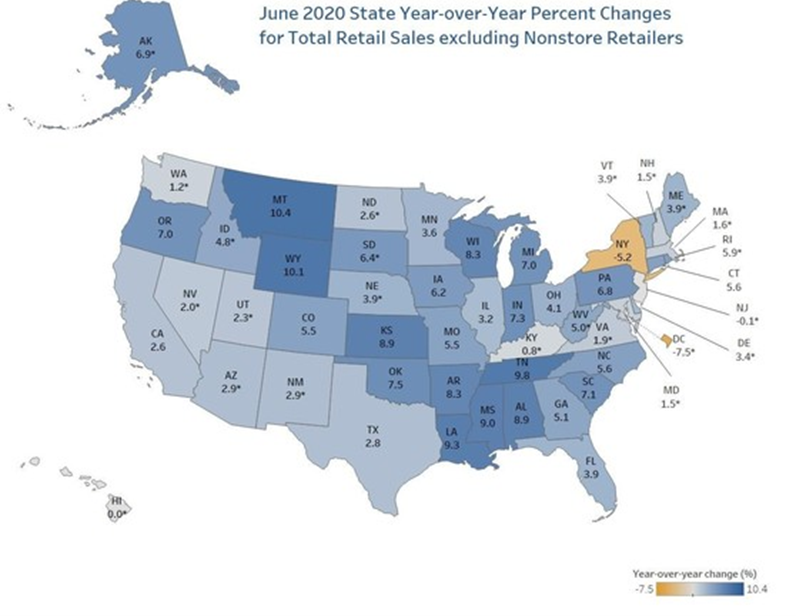 Shocking Number of Women Out of Workforce (CNN Business). Hundreds of thousands of women -nearly eight times more than the number of men – dropped out of the U.S. labor force last month. About 617,000 women left the workforce in September, compared with only 78,000 men, with half of the women who dropped out being in the prime working age of 35-44. Women have been hit harder by this recession than in previous downturns. Industries that employ lots of women, such as hospitality and leisure, are faring worse during the pandemic. Women are also more likely to take on the care responsibilities in the home, which during a time of homeschooling and home caring can make it hard for many to continue their professional careers. Last month's massive workforce dropout rate for women is at least partially due to the lack of childcare options, with child daycare services employment still down nearly 18% in September from its pre-pandemic level. Until parents have adequate care options for their children again, many women will not be able to return to work.
* Upcoming SEDE Training Opportunity *
Designing and Managing Business Incentive Compliance Efforts
November 9, 10, 16, 17, 2020
2:00 PM – 4:30 PM ET
Consult the SEDE Network Updates section at the end of this month's Bulletin for more details or click on the link above and check it out!
---
State Economic Performance
Worker Tenure with Current Employers Stable at 4.1 years (Bureau of Labor Statistics). The median number of years that wage and salary workers had been with their current employer was 4.1 years in January 2020, little changed from 4.2 years in January 2018. Median tenure is the point at which half of all workers had more tenure and half had less tenure. Employee tenure was generally higher among older workers than younger ones. For example, the median tenure of workers aged 55 to 64 (9.9 years) was more than three times that of workers aged 25 to 34 (2.8 years). The share of wage and salary workers with a year or less of tenure with their current employer was 22 percent in January 2020, unchanged from January 2018. This short-tenured group includes new hires, job losers who found new jobs, and workers who had voluntarily changed employers during the year.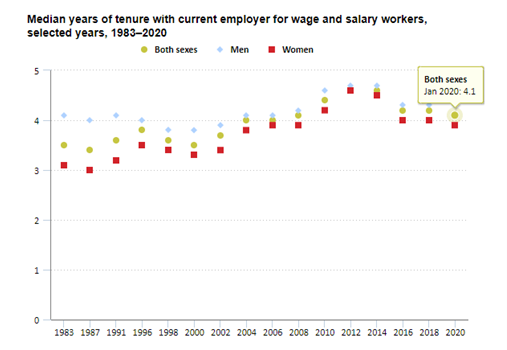 * Economic Outlook *
Slowing Recovery Needs More Support
Although the economic recovery "has progressed more quickly than generally expected … the outlook remains highly uncertain," said Federal Reserve Bank Chairman Jerome Powell, in a speech to the National Association for Business Economics. The U.S. economy is clearly not out of the woods and needs more policy intervention by monetary and fiscal authorities rather than less, according to Powell. The pace of the economic recovery has slowed since May and June, permanent job losses are rising, and the broader unemployment rate, though officially down to 7.9%, is closer to 11% after accounting for job status mischaracterizations and the decline in labor force participation. Powell also notes the widening wealth gap due to the disproportionate impact of the pandemic on communities of color and women. Note: Chairman Powell begins his remarks at the 11:30 minute mark of the video.
* * *
---
Topics and Trends
Industry Watch
The Future of Work in Oil, Gas and Chemicals (Deloitte). The global pandemic, which plunged demand for crude and petroleum products such as gasoline and jet fuel, has led to the fastest layoffs in the oil and gas industry's history. About 107,000 oil, gas, and petrochemical workers – or about 7 percent of the 1.5 million employed in the industry nationally – have been laid off since the pandemic began. Crude prices could remain depressed for years as growing concerns about climate change push countries and companies to shift to renewable energy. In Texas, for instance, drilling and oil-field services companies now employ 162,350 workers, about half of the 297,100 workers at peak employment in December 2014. Even if crude prices rise to $45 per barrel, Deloitte estimates 70 percent of oil and gas jobs lost during the pandemic may not return by the end of 2021. If crude falls to $35 a barrel, 97 percent of jobs may not return by the end of next year. In an optimistic scenario where oil prices jump to pre-pandemic levels of $55 a barrel, a quarter of the jobs lost may not return.
Trade/Tariffs
China Extends Tariff Exemptions on 16 U.S. Products (South China Morning Post). China has decided to exempt tariffs on a batch of 16 U.S. products, including fish meal, lubricants, and cancer medications, for another year, marking a small concession in a much broader trade war with the United States. China's Ministry of Finance said on its website that it extended its 2019 decision to exempt the 16 American products from additional tariffs until September 16, 2021. Those tariffs were levied in 2018 when China was engaging in a tit-for-tat tariff war with the U.S. However, the additional tariffs began to hurt Chinese importers, and Beijing started asking them in May 2019 to apply for exemptions. China's exemption of additional tariffs on U.S. products is largely technical, as the exemptions are made upon request from importers. However, such exemptions also translate into lower tariffs on U.S. products that can be read as friendly and goodwill signs.
Opportunity Zones
Opportunity Zone Rule Change Seeks Foreign Investors (The Real Deal). The Internal Revenue Service is considering new rules pertaining to foreign investors' ability to defer capital gains in the Opportunity Zones program. Experts predict the changes will be geared toward giving foreign investors more clarity on their tax liabilities. While foreign investors are not excluded from participating in OZ projects, there is some uncertainty over how they would be taxed and whether they could withhold capital gains. The potential rule changes come at a time when some countries are looking to take advantage of low interest rates in the U.S. and invest in commercial real estate. Only individual foreign investors or eligible foreign-owned businesses with capital gains from selling a U.S. business or piece of real estate would qualify. Tax-exempt institutional investors, such as pension funds and endowments, are not eligible. These new regulations could be released in December. To view the Final Regulations on Opportunity Zones issued by the U.S. Treasury Department and IRS, click here.
New Jersey Launches Consulting Service for Businesses in Opportunity Zones (NJ Business & Industry Association). The New Jersey Economic Development Authority (NJEDA) announced the Business Consulting for COVID-19 Recovery Program, a free consulting program to help small businesses in NJ Opportunity Zones address the challenges they are facing as a result of the COVID-19 pandemic and help them prepare for a strong long-term recovery. The program is open to all businesses with five or fewer employees that maintain a physical storefront or office in one of New Jersey's 169 Opportunity Zones. Working with the African American Chamber of Commerce of New Jersey and the Statewide Hispanic Chamber of Commerce of New Jersey, the program will offer up to 25 hours of free, one-on-one coaching and support to make businesses more profitable while maintaining compliance with COVID-19 era public health protections. Participating businesses will receive advice and assistance in securing grants and loans, adapting their business models to current needs, crafting long-term business strategies, evaluating their financial health, and improving accounting and bookkeeping systems, as well as other topics that can help them build a stronger, more sustainable business. Currently in the pilot phase, the NJEDA anticipates expanding the program soon to accommodate more businesses. For more information on Opportunity Zones, CDFA has extensive resources available, click here.
The Opportunity Zones program provides a tax incentive for investors to re-invest their unrealized capital gains into Opportunity Funds that are dedicated to investing into Opportunity Zones designated by the chief executives of every U.S. state and territory. Treasury has certified more than 8,700 census tracts as Qualified Opportunity Zones (QOZs) across all states, territories, and the District of Columbia. For a map of all designated QOZs, click here.
Inclusive Growth
How Equity is Leading Communities' Responses to COVID-19 (Urban Institute). Before the pandemic, the outlook for low-wage workers was beginning to brighten. U.S. Census Bureau poverty data showed that overall household incomes increased while poverty decreased in 2019. The pre-pandemic expectation was that jobs in services would continue to grow as a sector resulting in workers earning more money. COVID-19 reversed progress for low-paid workers. However, cities and states are continuing to push for an inclusive recovery. Washington DC, for example, has stayed the course on increasing the minimum wage while other communities are looking to their existing workforce as assets to help keep businesses and services operating. Health departments in California, Illinois, Massachusetts, and New York are retraining their unemployed workers to become public health workers and contact tracers, with pay ranging from $15 an hour to $65,000 a year. Similarly the Healthcare Career Advancement Program supported by JPMorgan Chase will provide infectious disease preparedness training to workers hired to fill the shortages in health care settings and also provide longer-term digital skills development that these workers can use to advance their career pathways.
Innovation
City Clean Energy Scorecard 2020 (American Council for an Energy-Efficient Economy). The ACEEE City Scorecard 2020 shows that local governments took more than 160 new actions—new initiatives or expansions of past ones—to advance their clean energy efforts. The Scorecard compares cities across five policy areas: Local government operations, Community-wide initiatives, Buildings policies, Energy and Water utilities, and Transportation policies. New York City earned the top spot for the first time. New York and St. Louis, for example, became the second and third cities in the nation—after Washington, DC—to establish performance standards for large buildings. Philadelphia passed a tune-up policy that will save energy in the city's large buildings. Detroit developed its first Sustainable Action Agenda and, in the process, codified goals to reduce greenhouse gas (GHG) emissions, ramp up energy savings and renewable energy use, and mitigate urban heat islands. Los Angeles, Providence, and St. Paul are tackling transportation, having adopted vehicle-miles-traveled reduction targets over the past year. But cities still have a long way to go in tracking the performance of their policies, giving community input a stronger role in shaping actions, and ensuring actions are designed to serve all residents.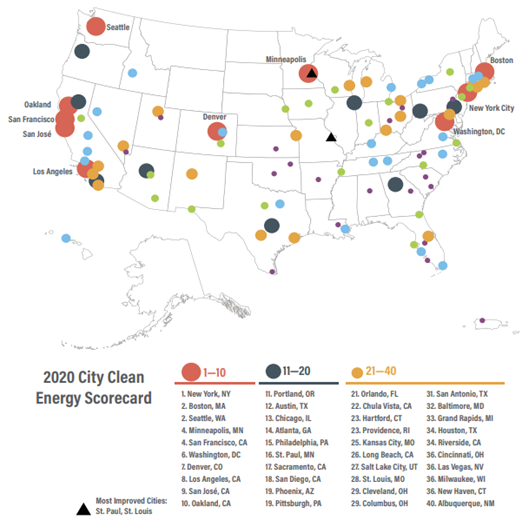 Infrastructure
Building the Future Infrastructure Workforce (Brookings). From transportation to water to energy, our country's infrastructure depends on millions of workers every day. Even though these positions tend to pay higher wages, pose lower educational barriers to entry, and have enormous replacement needs, there are struggles to connect prospective workers – especially younger and more diverse workers – to careers in this space. As Congress looks to support small businesses and other affected industries during the COVID-19 recession, there is an opportunity to hire, train, and retain talent in the skilled trades. The Brookings Metropolitan Policy Program hosted an event exploring the potential significance of a new InfraCorps Program. This multiyear federal program aims to develop a diverse workforce in the skilled trades as part of an Infrastructure Stimulus Plan for the COVID-19 Recession.
* Check out the SEDE Website *
The SEDE Network engages in regular activities and events throughout the year. You can stay up to date on all these activities via the SEDE Network website. The newest addition to the site includes a collection of websites and other communication resources used by states to address the Coronavirus Challenge.
Click the link above and check it out!
---
Deal Makers
Incentives in Action
Michigan Adapting Incentives to Help Distressed Communities (Smart Incentives). States face a constant struggle to encourage an even distribution of new investment activity. Incentive program managers often feel this challenge most keenly. Many flagship programs include tiered benefits that provide higher incentives for investment in distressed or lagging locations, but regional disparities have become worse in many states. Forward thinking economic development leaders are trying a new approach. They are adapting their incentive program rules and metrics to prioritize investment that benefits distressed places and the people living in those communities. The Michigan Economic Development Corporation, for instance, is focusing more on the impact to people holding the jobs, and not just the company itself. This means asking companies for more detail on the occupations and benefits offered with proposed new jobs and evaluating the average wages by occupation. MEDC is also assessing the proportion of occupations that are considered either good jobs or promising jobs, whether proposed wages get individuals or households over a living wage threshold, and what other actions or services can help projects follow through on the promise of good jobs, like connecting companies with local workforce service and training providers.
Report Touts Maine's Historic Properties Tax Credit (Maine Preservation). Maine's tax credit for restoring historic buildings has generated $525 million in construction investment since it was launched in 2008, according to a recent report. The loss of state tax revenue, estimated at $115 million, has been more than offset by the boost in local property tax revenues, as well as income and sales taxes. The state tax credit has provided financing to help rehabilitate 3.6 million square feet of commercial and residential space and has preserved nearly 2,000 housing units, 1,300 of which are considered affordably priced for middle-income residents. To be eligible for the state tax credit, a structure must pass a review of its historic nature by the Maine Historic Preservation Commission and National Park Service and receive a federal tax credit of up to 20 percent for rehabilitation costs. A building owner or developer can then take a tax credit of up to 25 percent of the cost of restoring a building for reuse. The state credit can be expanded to 34 percent if used for housing. The credit for both categories is limited to $5 million annually for four years.
GM Owes Ohio $28 Million for Plant Closing (Reuters). General Motors will repay $28 million in state tax incentives to Ohio after the largest U.S. automaker came under heavy criticism for closing its Lordstown Assembly plant in March 2019. The Ohio Tax Credit Authority said the closure violated the terms of two economic development agreements signed by the company, which included failing to retain 3,700 jobs in exchange for the credits. It was ordered to pay back around half of the more than $60 million in tax benefits received, and to provide an additional $12 million in community support programs in the Mahoning Valley, where the plant was located. The funds will be used for education and job training at Youngstown State University and other colleges, community programs and infrastructure projects. GM said in a statement the authority had recognized "GM's substantial manufacturing presence across the state of Ohio." For example, GM and LG Chem through the Ultium Cells LLC joint venture, are building a $2.3 billion battery cell manufacturing plant in Lordstown. The state said it awarded a 15-year Job Creation Tax Credit to the joint venture, which is expected to create 1,000 full-time positions.
The State Business Incentives Database is a national database maintained by the Council for Community and Economic Research (C2ER) with almost 2,000 programs listed and described from all U.S. states and territories. The Database gives economic developers, business development finance professionals, and economic researchers a one-stop resource for searching and comparing state incentive programs. To view the information available in the database, click here.
New Growth Opportunities
Reimagining Road Right-of-Ways for Solar (Government Technology). A research report by the University of Texas-Austin identifies more than 127,000 acres of right-of-way areas at interstate exits around the country as suitable for locating solar power generating sites. Solar installations at interstate exits have the potential to generate some 36 terawatts of energy per year – which equals about 1 percent of U.S. electricity consumption. For example, the Oregon Department of Transportation (ODOT) partnered with Portland General Electric (PGE) to produce two solar sites. The first one, a pilot in 2008 on Interstate 5, installed about 600 panels to produce about 104 kilowatts. A second project in 2012 installed 7,000 solar panels to produce 1.75 megawatts. At both sites ODOT provides the land, but the agency does not own, operate, or maintain the solar arrays. Several installations in states like Georgia, Oregon, Maryland, and Massachusetts are also producing power. For a mapping tool showing the location, size, estimated solar energy production, and estimated value of that solar production for interstate interchanges in the lower contiguous 48 states, click here.
Talent Development/Attraction
What Global Executives Envision for the Post-Pandemic Workforce (McKinsey Global Institute). Not only has COVID-19 thrown millions out of work, but the mix of jobs that emerges from this crisis is likely different than those that were lost, creating greater demand for workers to fill jobs in areas like health and hygiene, cybersecurity, and data analytics. To understand these changes, McKinsey surveyed business executives around the world. The results suggest that the crisis may accelerate some workforce trends already underway, such as the adoption of automation and digitization, increased demand for contractors and gig workers, and more remote work. Most respondents (85 percent) said their businesses have somewhat or greatly accelerated the implementation of technologies that digitally enable employee interaction and collaboration, such as videoconferencing and filesharing. Roughly half of those surveyed reported increasing digitization of customer channels via ecommerce, mobile apps, or chatbots. Some 35 percent have further digitized their supply chains by connecting their suppliers with digital platforms in supply chain management.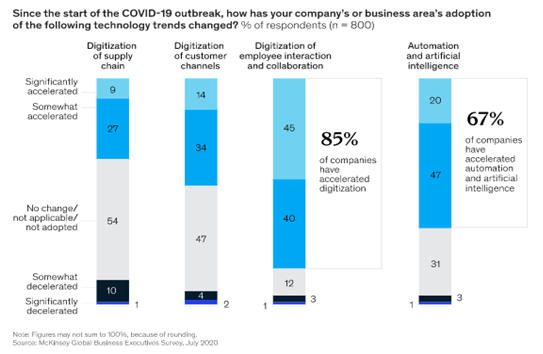 Manufacturers Should Talk to Employees about Race (Forbes). If you are the boss or a manager in your company, talking to your employees about race, listening to their concerns, and taking steps to address those concerns offer an opportunity to reach across racial and political lines, bridge some of our most troubling divisions, and help solve some of our society's most persistent, painful problems. If that does not convince you, it is also good for business. A ton of studies have shown that empathetic leaders are better leaders who deliver more profits. Likewise, one of the biggest problems for many manufacturing leaders in the last 15 years has been the difficulty in finding, hiring, and keeping talent. Covid-19 will not change that. When the pandemic subsides, the pool of qualified factory workers will quickly dry up again. Meanwhile, Black Americans could be the country's single greatest untapped talent pool. They are vastly underemployed—as many as 30 percent of Black adults want to work but have stopped looking or have jobs but would like to work more. Tapping into that industrious, ambitious cohort could solve manufacturers' talent problems in many parts of the country.
* * *
SEDE Network Updates
* Upcoming SEDE Training Opportunity *
Designing and Managing Business Incentive Compliance Efforts
November 9, 10, 16, 17, 2020
2:00 pm – 4:30 pm EDT
This training workshop provides state agency staff with the skills and insights to implement best practices in incentives monitoring and management. The workshop reviews common operating procedures, identifies critical issues, and explores options and tradeoffs to help staff make intentional choices to protect taxpayer investments in business incentives. Agency staff will be able to review and redesign operating procedures, confident their approach will be effective, but not overly burdensome, in leveraging reliable data for monitoring business compliance and program performance.
Instructors will provide guidance and best practices to state agency staff in incentives compliance procedures, especially related to:
Clarity on the rules for companies using incentives. By and large, companies are willing to comply if they know the rules and they are easy to follow.
Public sector data collection, validation, and management procedures
Working with the company for successful compliance
Dealing with noncompliance
Reporting compliance and performance impacts to decision makers
Target Audience:
This training program is targeted to state agency economic development professionals assigned to manage or implement compliance procedures. It may also be valuable to local EDO staff or leadership that oversee compliance personnel or activities or want to learn more about the mechanics of business incentive compliance.
Meet the Instructors:
Ellen Harpel, President, Business Development Advisors/ Smart Incentives
Jane Vancil, CEO, Incentilock
* * *
The SEDE Network Steering Committee includes: Stefan Pryor (RI), Chair; Val Hale (UT), Vice Chair; Julie Anderson (AK); Mike Preston (AR); Sandra Watson (AZ); Kurt Foreman (DE); Don Pierson (LA); Kelly Schulz (MD); Kevin McKinnon (MN); Chris Chung (NC); Alicia Keyes (NM); Michael Brown (NV); Andrew Deye (OH); Dennis Davin (PA); Manuel Laboy Rivera (PR); Jennifer Fletcher (SC); Adriana Cruz (TX); Joan Goldstein (VT); Mike Graney (WV).
For further questions on the content in this Bulletin or for information on the SEDE Network contact Marty Romitti, CREC Senior Vice President, at mromitti@crec.net