Latest News
SSBCI 2.0 Delivers $10 Billion to State Finance Programs (Council of Development Finance Agencies). The American Rescue Plan Act of 2021 includes funds to support the relaunch of the State Small Business Credit Initiative (SSBCI). The reauthorization of SSBCI is a major step forward in recognizing the economic challenges faced by underserved communities and restoring entrepreneurial activity across the country. SSBCI 2.0 will bring much needed capital to state development finance agencies, who can partner with local DFAs and CDFIs to support small business lending. The American Rescue Plan Act allocates $10 billion for state governments to leverage private capital to support recovering and emerging businesses after the pandemic. Approximately $3 billion of the program is dedicated to underserved and micro businesses, many of whom struggled to access the Paycheck Protection Program. The SSBCI was originally passed through the Small Business Jobs Act of 2010 to strengthen state programs that support financing small businesses and entrepreneurs. CREC conducted an evaluation of SSBCI in 2016 with important insights that can inform state plans this time. Numerous resources and the CREC report are available here.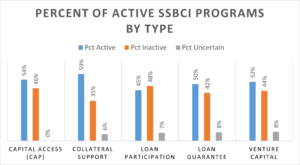 The American Rescue Plan Act of 2021 provides $1.9 trillion in mandatory funding, program changes, and tax policies aimed at mitigating the effects of the pandemic. The Act builds upon previously enacted aid measures in 2020, including the year-end spending and aid package, Coronavirus Aid, Relief, and Economic Security (CARES) Act, and Families First Coronavirus Response Act (FFCRA). For the National Conference of State Legislatures summary of American Rescue Plan provisions and additional resources, click here.
* American Rescue Plan Act *
What's in the $1.9 Trillion Rescue Plan for Small Businesses
The $1.9 trillion American Rescue Plan Act of 2021 contains several provisions intended to help small businesses. It authorizes another $7.25 billion for the Paycheck Protection Program, which offers forgivable loans to small businesses and other organizations hurt by the pandemic. Despite the added funds, the legislation does not extend the program which is set to expire on March 31. Groups have been calling on Congress to extend the program or to at least allow the SBA to continue processing loan approvals for applications submitted prior to the deadline. There is also $15 billion added to the Economic Injury Disaster Loan grants program for small businesses in underserved areas, especially those that are minority-owned; $29 billion to create a grant program that provides direct relief to restaurants; another $15 billion for the Shuttered Venue Operators Grants program; and $10 billion to relaunch the State Small Business Credit Initiative.
* * *
---
State Economic Performance
New Definition for Metropolitan Area Proposed (Office of Management and Budget). The OMB requests public comment on the recommendations it has received from the Metropolitan and Micropolitan Statistical Area Standards Review Committee for changes to OMB's metropolitan and micropolitan statistical area standards. The proposed changes will impact MSA delineations, increasing the minimum population of cities that constitute the core of Metropolitan Statistical Areas (MSAs) from 50,000 to 100,000. This change would mean a federal redefinition of many existing metro areas across the U.S. A new MSA standard would not just be "statistical" – it would have financial and capacity consequences. Several housing, transportation and Medicare reimbursement programs are tied to communities being metropolitan statistical areas. Also impacted would be CDBG entitlement grants, which go to the central city of every metro area.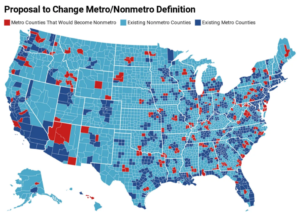 * Economic Outlook *
COVID-19's Impact on Potential GDP Growth
Early retirement, withdrawal from the labor force due to childcare demands, business closures, and other pandemic-related challenges are likely to hold back labor supply in the near-term, and lengthy school closures may have lowered human capital in the long-term. Productivity may be negatively affected as businesses spend time and resources adjusting to more widespread work from home and social distancing measures. Overall investment has fallen as well, while the increase in investment in IT has mostly gone towards duplicating equipment that currently sits idle in workplace offices. However, Federal Reserve Bank of San Francisco researchers project these effects to be modest over time with little change to the pace of growth of potential GDP, which was subdued even before the downturn due to a slow-growing labor force and limited innovation. In 5 to 10 years post-pandemic, the forecasted GDP growth is just above 1.5%, about the same as pre-pandemic projections.
* * *
___________________________________________________________________________________________________________________________________________________________________________________________________________________________________________________________________________________________________
Topics and Trends
Industry Watch
Manufacturing's Reshoring Movement (Wealth Management). The pandemic has been disrupting global supply chains since early 2020 and continues to cause frequent delays from international suppliers. Hostile trade relations between the United States and China had been brewing even before COVID-19 hit, accelerating a reshoring trend. Reshoring involves relocating manufacturing assets to the United States from China; more universally, it can include sourcing alternative suppliers in the United States or North America instead of Asia. Reshoring efforts have been gaining momentum and have surged in the face of the trade war and global pandemic. A study by Thomas found that 69% of American companies said they were very likely to bring manufacturing and sourcing back to North America. Tight U.S. industrial real estate capacity, manufacturing labor shortages, technology availability, sustainability initiatives, and reshoring costs can be obstacles. Equipment and other assets must be disassembled and transported or sold and replaced by domestic suppliers. Premises must be built or leased, and a new staff hired and trained. The initial cost is often enough to give companies pause, although many reshoring businesses have turned to logistics partners, consultants, real estate firms, and other specialists to help minimize costs and facilitate easier, more efficient moves.
Trade/Tariffs
President Biden's Trade Policy Agenda (United States Trade Representative). The Office of the United States Trade Representative delivered President Biden's 2021 Trade Agenda and 2020 Annual Report to Congress, detailing a comprehensive trade policy in support of the Administration's effort to help the U.S. recover from the COVID-19 pandemic and build back better. The President's agenda seeks to address four national challenges: building a stronger industrial and innovation base so the future is made in America; building sustainable infrastructure and a clean energy future; building a stronger, caring economy; and advancing racial equity across the board. The trade policy agenda seeks a fair international trading system that promotes inclusive economic growth and reflects America's universal values. Through bilateral and multilateral engagement, the Biden Administration will seek to build consensus around trade policies that address the climate crisis, bolster sustainable renewable energy supply chains, level the playing field, discourage regulatory arbitrage, and foster innovation and creativity. Trade policy will also value Americans as workers and wage-earners, not only as consumers.
Opportunity Zones
Opportunity Zones State of the Marketplace (Economic Innovation Group). A recent report from EIG takes stock of where we are three years after Opportunity Zones were passed into law and one year after final regulations allowed the marketplace to begin to mature. It finds that the OZ concept is largely proving itself in numerous communities across the country, although further legislative and regulatory improvements are necessary to help ensure the policy fulfills its promise. Early results from this new marketplace for investing in struggling American communities vouch for the OZ model. In difficult-to-invest areas, the flexible stake of patient equity capital that OZs unlock can be decisive. Investor behavior is changing as people with capital look at the country's map in a new light, even if investing through OZ vehicles remains a relatively niche activity. Incremental refinements to the basic OZ structure that simplify investing and bolster both the integrity and transparency of the marketplace would set the policy on a strong course for the duration of this investment window, through 2026.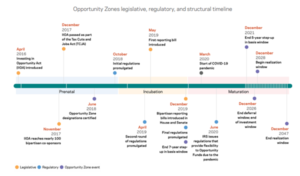 The Opportunity Zones program provides a tax incentive for investors to re-invest their unrealized capital gains into Opportunity Funds that are dedicated to investing into Opportunity Zones designated by the chief executives of every U.S. state and territory. Treasury has certified more than 8,700 census tracts as Qualified Opportunity Zones (QOZs) across all states, territories, and the District of Columbia. For a map of all designated QOZs, click here.
Inclusive Growth
Indiana's New Course for Economic Growth and Inclusion (Brookings). According to a Brookings report, Indiana has an opportunity to elevate its economic trajectory. But to do that, the state needs to do more than just manage a serviceable recovery from the immediate COVID-19 shock and recession. Rather, the state needs to address some of the deeper economic challenges it faced prior to the pandemic that could limit the dimensions of its recovery. Indiana should shoot for enhancement—not just repair. The report recommends the state begin improving its standing on key resilience factors by taking action to accelerate technology adoption, facilitate faster industry and worker adaptation, and promote economic inclusion. Along these lines, the state should consider several linked initiatives and action steps, like encouraging digital skills development, addressing a lack of broadband connectivity, promoting advanced industry growth throughout the state, addressing childcare shortages, and enlarging its earned income tax credit, among others.
Innovation
Measuring Trends in Artificial Intelligence (Stanford University). Artificial Intelligence (AI) is set to shape global competitiveness over the coming decades, promising to grant early adopters a significant economic and strategic advantage. National governments and regional and intergovernmental organizations have raced to put in place AI-targeted policies to maximize the promise of the technology while also addressing its social and ethical implications. Stanford's AI Index Report tracks, collates, distills, and visualizes data related to artificial intelligence. Its mission is to provide unbiased, rigorously vetted, and globally sourced data for policymakers, researchers, executives, journalists, and the public to develop intuitions about the complex field of AI. Among the key takeaways in the 2021 Index include: AI investment in drug design and discovery increased significantly; surveillance technologies are becoming fast, cheap, and increasingly ubiquitous; China leads the U.S. in AI journal citations; and most AI PhDs are from abroad and staying in the U.S. to work.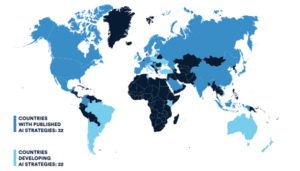 Infrastructure
America's Infrastructure Scores a C- (American Society of Civil Engineers). The American Society of Civil Engineers gives the nation's infrastructure a C-minus grade on its 2021 infrastructure report card, up from a D-plus four years ago. This is the first time since ASCE began issuing the report card that the nation's infrastructure has received a GPA above a D. Between 2017 and 2021, five category grades increased while only one—bridges—decreased. This, combined with the commitment from state and local governments to improving infrastructure, indicate that infrastructure investment in the United State is trending upwards. However, 11 of the 17 categories received scores in the 'D' range: aviation, dams, hazardous waste, inland waterways, levees, public parks, roads, schools, stormwater, transit, and wastewater. Many sectors, especially those with lower grades, have large maintenance backlogs. The country's total infrastructure funding gap over the next 10 years is estimated at $2.6 trillion. To close this gap, ASCE calls for strong federal, state, and local leadership and investment in infrastructure. Additionally, resilience must be a priority, as the ability to withstand or recover from extreme events is key to infrastructure survival. State specific infrastructure report cards are also available on the site.
In infrastructure-related legislation, the U.S. House Energy and Commerce Committee introduced the Leading Infrastructure For Tomorrow's America Act, or LIFT America Act, which invests more than $312 billion in clean energy, energy efficiency, drinking water, broadband, and health care infrastructure. To view the section-by-section of the bill, click here.
________________________________________________________________________________________________________________________________________________________________________________________________________________
Deal Makers
Incentives in Action
Does the American Rescue Plan Act Penalize State Business Incentive Awards?…Maybe? (Good Jobs First). Inside the $1.9 trillion spending plan is a key provision: for every $1 in tax cuts, you lose $1 from what your state is supposed to get. The details are being worked out and the Treasury Department still needs to put out final rules on it, but for groups like Good Jobs First the answer is clear: "Economic development tax breaks should absolutely count." Indeed, the passage clearly lists new tax credits as a no-no, not just tax cuts. Other groups differ on this interpretation, noting that the provision's primary purpose is to deter tax cuts that are paid for by Federal funds and not applicable to incentive programs that have a clear state funding source. The ARP Act does appear to throw some uncertainty into 'unbudgeted' tax cuts that might be considered by legislatures in the future. Treasury will ultimately weigh in on how economic development tax incentives are handled. States EDOs might consider talking with their state AG and Budget offices to raise awareness on the possible implications. The SEDE Network will continue to monitor developments on this matter.
* New SEDE Incentives Report *
Repositioning Economic Development Incentives for 2021
The latest report from the Center for Regional Economic Competitiveness (CREC) and Smart Incentives provides guidance on critical issues and trade-offs that will help state leaders make sound decisions on incentive policies to generate net benefits for their communities. The guidance draws on lessons learned from past recessions, incentive best practices, recent research examining incentive effectiveness, and responses to economic priorities that have come to the forefront over the last year. The questions in each section provide a framework that will help state leaders assess their incentive options in 2021.
* * *
Connecticut Plan for Economic Growth Is Catching On (Site Selection). Plenty of Connecticut businesses are happy to champion the state. They are there because they want to be there, and they believe other companies in their industry would benefit from a Connecticut location as well. This includes corporate executives in three of the state's leading industries — defense, life sciences and IT. Executives from General Dynamics Electric Boat; Sema4, an AI-driven, patient-centered genomic and clinical data insight platform company; and Infosys, a digital services and consulting firm, each give the state's overall business climate a high grade for factors like ease of doing business, the regulatory environment, business costs, and access to a quality workforce. The state is placing an increasing emphasis on workforce development as an economic growth strategy, forming an Office of Workforce Strategy and working with community colleges and the Connecticut State Colleges & Universities system to build more certificate programs to provide the skill sets for jobs which are in high demand, such as advanced manufacturing, coding, construction, nursing, and digital media.
Oklahoma Forms New Statewide EDO (Oklahoma Commerce). Economic developers from across Oklahoma recently convened to form a new corporation, Select Oklahoma an Economic Development Partnership, Inc. The new organization takes the place of the Oklahoma Professional Economic Development Council (OEDC) and the Governor's Economic Development Marketing Team (GEDMT). Select Oklahoma is chaired by Kinnee Tilly, of the Oklahoma Manufacturing Alliance, and is intended to support statewide efforts to recruit new and retain existing primary jobs and capital investment in the state. In addition to marketing efforts, the corporation will support a healthy economy for the State through legislative advocacy, education, training and development and professional collaboration. "The creation of this organization will allow us to better engage with communities in all 77 counties and speak with one voice as we strive to be a Top Ten State in economic growth," said Oklahoma Department of Commerce Executive Director Brent Kisling.
The State Business Incentives Database is a national database maintained by the Council for Community and Economic Research (C2ER) with almost 2,000 programs listed and described from all U.S. states and territories. The Database gives economic developers, business development finance professionals, and economic researchers a one-stop resource for searching and comparing state incentive programs. To view the information available in the database, click here.
New Growth Opportunities
Jobs and Skills Driving the Post-Pandemic Recovery (Burning Glass Technologies). The recession left in the wake of the COVID-19 pandemic is unprecedented. If the U.S. is going to have a recovery that not only brings the economy back to where it was but also ensures a more equitable future, it is crucial to understand what jobs and skills are likely to drive the recovery. In this report, Burning Glass Technologies uses a database of more than 1 billion current and historical job postings, along with expert views, to anticipate what jobs will be most important in the post-pandemic labor market. The report projects jobs in the Readiness, Logistics, Green, Remote, and Automated economies will grow at almost double the rate of the job market overall in coming years. These jobs already represent significant fractions of the labor market and are important inflection points for the economy. A shortage of talent in these fields could set back the broader recovery.

Talent Development/Attraction
The Robots Are Coming for Phil in Accounting (New York Times). White-collar workers, armed with college degrees and specialized training, once felt relatively safe from automation. But recent advances in AI and machine learning have created algorithms capable of outperforming doctors, lawyers, and bankers at certain parts of their jobs. And as bots learn to do higher-value tasks, they are climbing the corporate ladder. The trend — quietly building for years but accelerating to warp speed since the pandemic — goes by the sleepy moniker "robotic process automation." And it is transforming workplaces at a pace that few outsiders appreciate. Nearly 8 in 10 corporate executives surveyed by Deloitte last year said they had implemented some form of R.P.A. Another 16 percent said they planned to do so within three years. Executives generally spin these bots as being good for everyone, "streamlining operations" while "liberating workers" from mundane and repetitive tasks. But they are also liberating plenty of people from their jobs. Independent experts say that major corporate R.P.A. initiatives have been followed by rounds of layoffs, and that cutting costs, not improving workplace conditions, is usually the driving factor behind the decision to automate.
Counting U.S. Postsecondary and Secondary Credentials (Credential Engine). Learners, educators, and policymakers understand that high school completion and education beyond high school are critical to success in the workforce. However, the marketplace of credentials, education, and training in the United States is vast, complex, expensive, inefficient, and until recently, an inventory did not exist of the number or type of secondary and post-secondary credential opportunities in the United States. This is the third annual report from Credential Engine that attempts to count all these credentials. The report identifies nearly one million unique credentials in the U.S. in 16 detailed credential categories across four types of credential providers—postsecondary educational institutions, Massive Open Online Course (MOOC) providers, non-academic organizations, and secondary schools. New in this report is a state-by-state breakdown of credentials offered by state-based entities in five categories: diplomas, certificates, degrees, apprenticeships, and licenses.
* * *
SEDE Network Updates
* Recording Available *
Incentives Roundtable: Remote Workers Impact on Compliance
Listen to the March 16, 2021 discussion, hosted by SEDE and CREC, on how remote work became a more important part of the economic landscape in 2020. In response, many state economic development organizations are considering the impact of remote work on existing incentive performance agreements as companies endeavor to remain compliant with the terms of their contracts. Now that compliance reporting deadlines are approaching, the discussion included suggestions on how economic development organizations can adjust incentive program compliance procedures in response to last year's upheavals. Ellen Harpel, Founder of Smart Incentives, and Jane Vancil, CEO of IncentiLock, facilitated the discussion held via Zoom.
Speakers:
* * *
The SEDE Network Steering Committee includes: Stefan Pryor (RI), Chair; Sandra Watson (AZ), Vice Chair; Julie Anderson (AK); Mike Preston (AR); Kurt Foreman (DE); Don Pierson (LA); Kelly Schulz (MD); Kevin McKinnon (MN); Chris Chung (NC); Alicia Keyes (NM); Michael Brown (NV); Andrew Deye (OH); Dennis Davin (PA); Jennifer Fletcher (SC); Adriana Cruz (TX); Joan Goldstein (VT); Mike Graney (WV).
For further questions on the content in this Bulletin or for information on the SEDE Network contact Marty Romitti, CREC Senior Vice President, at mromitti@crec.net