State Economic Development Bulletin – May 2023
Headlines 
Economic Performance 
The Fed Lifts Rates by A Quarter Point (CNN)
Banks Report Tougher Credit Standards in Wake of Failures (Associated Press)
Consumer Sentiment Tumbles to Six-Month Low in May (Market Watch)
Economic Outlook
The Potential Economic Impacts of Various Debt Ceiling Scenarios (Council of Economic Advisers)
Consumer-Led Economic Slowdown to Hit the U.S. (Economist Intelligence Unit)
SEDE News
EDA Publishes Tech Hubs Phase 1 Notice of Funding Opportunity (NOFO) (EDA)
White House Manufacturing Paper Features Contributions from State Leaders (The White House)
IEDC Seeking to Place 65 Economic Recovery Corp (ERC) Fellows (IEDC)
Trade
U.S. Trade with the World Rose in March (AG WEB)
China's commerce minister to meet U.S. trade representative this month (South China Morning Post)
Industry Trends
U.S. Services Sector Still Growing; Inflation Remains Sticky (Reuters)
Lackluster Results, Production Target Cuts Deepen EV Start-Up Gloom (Reuters)
U.S. Manufacturing Contracts Again in April, But Pace Slows (Reuters)
Workforce
The U.S. Has Fallen Behind When It Comes to Women in The Workforce (Axios)
Why Labor Shortages Could Be Here to Stay (Axios)
Robots and Jobs: Evidence from U.S. Labor Markets (NBER)
Finance And Incentives
EV Automaker Canoo to Build Second U.S. Manufacturing Plant in Oklahoma (Repairer Driven News)
Data Center, Hydrogen Fuel Hub to Bring More Than 2,000 New Jobs to Surry, VA (Smithfield Times)
Mesquite, TX Approves New General Dynamics Plant (Dallas News)
Coca-Cola to Build $650 Million Facility in Monroe County, NY (Governor of New York)
6K Energy to Establish Battery Material Manufacturing Plant in Jackson, TN (Tennessee DEDC)
FN America LLC To Build $33 Million Small Arms Plant in Pickens County, SC (SC Biz News)
Economic Performance  
The Fed Lifts Rates by A Quarter Point (CNN) The Federal Reserve voted unanimously to raise interest rates by a quarter point on May 3rd, the tenth rate hike since the central bank started its battle against inflation in 2022. The quarter-point increase brings the benchmark federal funds rate to a level of 5%-5.25%, its highest level in more than 15 years. However, employers still had 9.59 million job openings in March, (down from 12 million in March 2022), and the unemployment rate has not gone above 3.7% since the Fed began to lift rates last year. Despite recent bank failures, Powell played down fears of worsening turmoil in the banking sector. He said conditions have "broadly improved since March" and that many banks have been "attending to liquidity."
Banks Report Tougher Credit Standards in Wake of Failures (Associated Press) A recent Federal Reserve report showed that banks raised their lending standards for business and consumer loans in the aftermath of three large bank failures and expect to lift them more this year, a trend that could slow the economy in coming months and increases the risk of a recession. A year ago, slightly more banks were easing credit standards than raising them. Now nearly half are tightening. Federal Reserve officials and economists will closely scrutinize the report, because tighter credit standards are expected to be followed by a reduction in lending. That could force businesses to pull back on expansion plans and reduce hiring which could limit sales of cars and homes.
Consumer Sentiment Tumbles to Six-Month Low in May (Market Watch) The University of Michigan's gauge of consumer sentiment fell to a preliminary May reading of 57.7 from an April reading of 63.5. That is the lowest level since November 2022. Americans view on near-term inflation moderated slightly in May. Consumer spending is the engine of the economy. If households grow concerned about the outlook and pull back, it could push the economy into recession. "Consumers' worries about the economy escalated in May alongside the proliferation of negative news about the economy, including the debt crisis standoff," said the University of Michigan report.
Economic Outlook 
The Potential Economic Impacts of Various Debt Ceiling Scenarios (Council of Economic Advisers) New analyses by both the Congressional Budget Office and the U.S. Department of the Treasury suggest the United States is rapidly approaching the federal debt limit—the legal limit on the principal of outstanding federal liabilities. Because the government would be unable to enact counter-cyclical measures in a breach-induced recession, there would be limited policy options to help buffer the impact on households and businesses. Job loss, an economic recession and increased short- and long-term interest rates are among the impacts of a default.
Consumer-Led Economic Slowdown to Hit the U.S. (Economist Intelligence Unit) U.S. economic data sent mixed signals in the first quarter of 2023. These mixed signals suggest that the U.S. economy is at a turning point, coming out of a year of robust growth in 2022. Real private consumption surged by 3.7% quarter on quarter (annualized) in the first quarter of 2023 which supported real GDP growth of 1.1% in the first quarter, despite a steep decline in private inventories. Manufacturing indices have been softening for several months, although the impact of this on overall GDP has thus far been offset by continued consumer demand.
SEDE News
SEDE Curriculum Launches New and experienced state economic development executives always make time to expand their skills and knowledge. With funding from the Economic Development Administration, SEDE and the Center for Regional Economic Competitiveness have developed a peer-led curriculum with short video modules with 12 SEDE executives discussing 18 leadership and programmatic topics. This approach meets the needs of busy SEDE executives and helps enhance their working relationship with EDDs. In addition to the state executives, EDA Assistant Secretary Alejandra Castillo shares her thoughts as part of the curriculum.  Check out the curriculum here!
EDA Publishes Tech Hubs Phase 1 Notice of Funding Opportunity (NOFO) (EDA) The Tech Hubs Program is an economic development initiative designed to drive regional technology and innovation-centric growth by strengthening a region's capacity to manufacture, commercialize, and deploy critical technologies. EDA will designate at least 20 Tech Hubs across the country and will separately award approximately $15 million in strategy development grants to accelerate the development of future Tech Hubs. The Tech Hubs designation will be a widely recognized indicator of a region's potential for rapid technology-led economic growth. The Phase 1 application deadline is August 15, 2023. EDA expects to release the Phase 2 NOFO in Fall 2023.
White House Features SSBCI Accomplishments in Manufacturing Report (The White House) The American Rescue Plan, passed in 2021, reauthorized and expanded the State Small Business Credit Initiative (SSBCI) and will provide nearly $10 billion in funds to help small businesses access the capital they need to invest in job-creating opportunities as the country emerges from the pandemic. These funds will be allocated to states, the District of Columbia, territories, and Tribal governments to promote American entrepreneurship and startup capital across the country, including in underserved communities.
IEDC Seeking to Place 65 Economic Recovery Corp (ERC) Fellows (IEDC) The International Economic Development Council (IEDC) and its partners are seeking to place 65 Economic Recovery Corps (ERC) Fellows within partnering communities to activate economic development projects or plans that generate innovative practices and paradigms for equitable and inclusive change. IEDC is seeking organizations or communities ready to advance a local or regional economic development strategy or transformative project but has struggled to find the resources to bridge the gap between planning and implementation. Submit an Expression of Interest by June 30. The ERC program is open to the entire community and economic development field, from city and county government to regional coalitions, Tribal Nations, economic development organizations, economic development districts (EDDs), and entrepreneurial technical assistance providers.
Trade
U.S. Trade with the World Rose in March (AG WEB) U.S. trade with the rest of the world increased in March as companies shipped more oil, natural gas and vehicles and exported more products to China after it lifted COVID-19 restrictions. Exports rose 2.1% in March from the prior month to a seasonally adjusted $256.2 billion while imports declined 0.3% to $320.4 billion, the Commerce Department said. While the overall U.S. trade deficit narrowed to $64.2 billion in March from $70.6 billion in February on rising exports against imports that declined, the U.S. agriculture sector exports saw a wider deficit.
China's Commerce Minister to Meet U.S. Trade Representative in May (South China Morning Post) U.S. trade representative Katherine Tai plans to meet China's commerce minister in Detroit, in what would be the most senior in-person encounter between the nations since the U.S. shot down an alleged Chinese spy balloon. The meeting between Tai and Wang Wentao of China would likely occur on the sidelines of a gathering of Asia-Pacific Economic Cooperation trade ministers on May 25-26, according to the people, who asked not to be identified citing information that is not yet public. Improving relations could open the way to clearing a backlog of bilateral engagements.
Industry Trends
U.S. Services Sector Still Growing; Inflation Remains Sticky (Reuters) The U.S. services sector maintained a steady pace of growth in April as new orders increased amid a surge in exports. Despite darkening clouds gathering over the economy as the lagged effects of higher interest rates start to have an impact, services businesses in the Institute for Supply Management (ISM) survey on Wednesday were upbeat. The ISM's non-manufacturing PMI edged up to a reading of 51.9 last month from 51.2 in March. A reading above 50 indicates growth in the services industry, which accounts for more than two-thirds of the economy.
Lackluster Results, Production Target Cuts Deepen EV Start-Up Gloom (Reuters) EV makers Fisker Inc (FSR.N), Nikola Corp (NKLA.O) and Lucid Group (LCID.O) disappointed investors with dull quarterly results and production target cuts. The downbeat updates from firms underscore the challenges facing cash-strapped EV companies, whose plans to disrupt the auto industry are unraveling in the face of rising interest rates and competition.
U.S. Manufacturing Contracts Again in April, But Pace Slows (Reuters) U.S. manufacturing pulled off a three-year low in April as new orders improved slightly and employment rebounded, but activity remained depressed amid higher borrowing costs and tighter credit, which have raised the risk of a recession this year. The ISM said its manufacturing PMI increased to 47.1 last month from 46.3 in March, which was the lowest reading since May 2020. Activity could remain subdued as the ISM noted that customers' inventory levels "are now at the low end of the 'too high' level," and "likely not conducive to future output growth."
Workforce
The U.S. Has Fallen Behind When It Comes to Women in The Workforce (Axios) The U.S. is facing a labor shortage that could worsen over the next decade as the population ages — and increasing the share of women in the workforce is one way to counteract that according to Moody's Investor Service. Improved policies around child care and maternity leave have helped push up labor force participation rates in advanced economies— eliminating key barriers to keeping women attached to work. Though a few states offer paid parental leave, the country has no universal policy. And though there are some subsidies for child care, IMF notes that the service is generally more expensive here than in other countries.
Why Labor Shortages Could Be Here to Stay (Axios) As an increasing number of Americans reach retirement age and leave the workforce, the implications on labor shortages will remain for the long-term. But the so-called "prime-age" workers are indeed working. The labor force participation rate among those aged 25–53 is now at 83.3% — slightly higher than where it was in February 2020. But overall labor force participation — that is the share of the total population either working or looking for work — is still slightly lower than where it was then.
Robots and Jobs: Evidence from U.S. Labor Markets (NBER) As robots and other computer-assisted technologies take over tasks previously performed by labor, there is increasing concern about the future of jobs and wages. Daron Acemoglu, MIT, and Pascual Restrepo, Boston University, analyze the effect of the increase in industrial robot usage between 1990 and 2007 on U.S. local labor markets and found that robots may reduce employment and wages. The impact of robots is distinct from the impact of imports from China and Mexico, the decline of routine jobs, offshoring, other types of IT capital, and the total capital stock. According to the study, one more robot per thousand workers reduces the employment to population ratio by about 0.18-0.34 percentage points and wages by 0.25-0.5 percent.
Finance And Incentives
EV Automaker Canoo to Build Second U.S. Manufacturing Plant in Oklahoma (Repairer Driven News) Canoo, an electric vehicle (EV) and advanced mobility company, has partnered with AFV Partners to build its second U.S. manufacturing plant in Oklahoma City. The 500,000 square foot plant is strategically located with easy access to road, rail, and waterways. The building sits on more than 120 acres of land and will ramp up over the coming months with 500 employees being hired. The facility will produce Canoo's LDV and LV vehicles for delivery to customers later this year. Canoo plans to reach a 20,000 unit annual run rate by the end of this year.
Data Center, Hydrogen Fuel Hub to Bring More Than 2,000 New Jobs to Surry, VA (Smithfield Times) Surry County will be home to the United States' first-of-its-kind combination data center and hydrogen fuel hub that is expected to generate 2,000 to 3,000 new jobs. Middleburg-based Green Energy Partners LLC has secured 641 acres adjacent to Dominion Energy's Surry nuclear power plant to build a 1-gigawatt data center and hydrogen hub.
Mesquite, TX Approves New General Dynamics Plant (Dallas News) Mesquite has approved plans for a new defense industry plant that will add more than 125 jobs. General Dynamics will occupy a 240,011-square-foot building in the Mesquite 635 Business Park. The new manufacturing operation will produce artillery casings for the U.S. Department of Defense and will employ about 50 salaried employees and another 75 to 100 hourly workers. The new plant comes as the Department of Defense is increasing munitions and weapons production to replace materials that were sent abroad to support the war in Ukraine.
Coca-Cola to Build $650 Million Facility in Monroe County, NY (Governor of New York) The Coca-Cola Company has selected New York State for its preferred location for a new Fairlife production facility. The 745,000 square-foot facility is expected to create up to 250 new jobs the town of Webster. The company expects to break ground on the project sometime this fall, subject to appropriate approvals and final diligence, with the facility slated to be operational by Q4 of 2025. The total project investment has been estimated at $650 million.
6K Energy to Establish Battery Material Manufacturing Plant in Jackson, TN (Tennessee DEDC) 6K Energy officials announced that the company will invest in a full-scale PlusCAM™ battery material manufacturing plant in Jackson, Tennessee. 6K Energy will invest $166 million in the plant for construction and equipment, expanding to $250 million in future phases. The company will also use its recently announced $50 million U.S. Department of Energy (DOE) grant opportunity for the factory placing the initial combined investment over $200 million.
FN America LLC To Build $33 Million Small Arms Plant in Pickens County, SC (SC Biz News) FN America LLC will manufacture firearms and related products in a Pickens County facility near the town of Liberty. The Pickens County Council voted to grant a fee-in-lieu-of-tax agreement to FN America on at the offices of Alliance Pickens, which is located at the edge of the business park that will house FN America's $33 million small arms factory. The company expects to break ground next year and start operations in 2025, bringing about 175 new jobs in the five years that follow.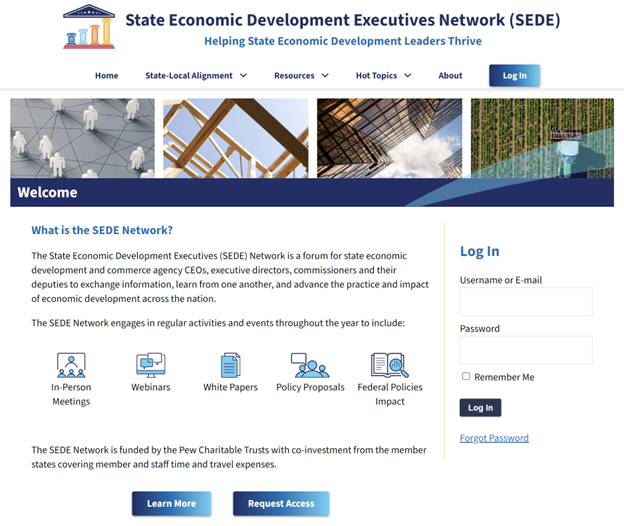 The State Economic Development Executives (SEDE) Network engages in regular events throughout the year. State Economic Development.org lists these activities and offers an interactive forum for discussion among peers.
The SEDE Steering Committee includes: Sandra Watson (AZ), Chair; Don Pierson (LA), Vice-Chair; Kurt Foreman (DE); Kevin McKinnon (MN); Christopher Chung (NC); Alicia Keyes (NM); Andrew Deye (OH); Sophorn Cheang (OR); Adriana Cruz (TX); Joan Goldstein (VT); and Mike Graney (WV).
Leif Olson of the Center for Regional Economic Competitiveness (CREC) led the development of this Bulletin; for questions on the content in this Bulletin or for information on the SEDE Network contact Bob Isaacson, CREC Senior Vice President.