State Economic Development Bulletin – April 2023
Headlines 
Economic Performance 
American Inequality is Lessening (TIME)
Inside the U.S. Jobs Report: Record-Low Black Unemployment (Reuters)
U.S. Labor Market Remains Tight, Corporate Profits Decline (Reuters)
U.S. Revises Down Last Quarter's Economic Growth to 2.6% Rate (Associated Press)
Economic Outlook
U.S. Consumer Confidence Improved in March (CNN)
Economic Pessimism Persists, With Inflation Still Key Concern (Gallup)
U.S. Adds a Healthy 236,000 Jobs Despite Fed's Rate Hikes (ABC News)
SEDE News
SEDE Member Spotlight: Adriana Cruz
Office of Manufacturing and Energy Supply Chains: State Manufacturing Leadership Program FOA
Trade
U.S. Goods Trade Deficit Widens as Exports Decline (Reuters)
USTR's Tai: Indo-Pacific Trade Talks Could See Results This Year (Reuters)
Industry Trends
Cummins Announces Investments of ~ $1 billion Across U.S. (Market Screener)
US First-Quarter Auto Sales Set to Rise on Better Inventory (Reuters)
Global Factory Activity Weakens as Demand Falters (Reuters)
Workforce
What Has Driven the Labor Force Participation Gap since February 2020? (New York Federal Reserve)
DOE Seeks Input on Building the Solar Manufacturing Workforce (PV Magazine)
Finance And Incentives
Biden Administration Begins First Round of Transportation Grants (Department of Transportation)
Treasury Releases Proposed Guidance on New Clean Vehicle Credit (U.S. Treasury)
U.S. Announces $50 Million to Incentivize Smart Manufacturing (U.S. Department of Energy)
LG Announces Huge Expansion of Plans for Battery Factory in Arizona (AZ Central)
Toyota Boshoku Announces Plans for $225 Million 'Smart Plant' in Kentucky (WDRB)
Hounen Solar Establishing First U.S. Operations in South Carolina (Governor Of South Carolina)
Flender Corporation to Expand Manufacturing Facility in Illinois (Illinois.Gov)
Economic Performance  
American Inequality is Lessening (TIME) After decades of increasing income inequality, the rebound from the pandemic has led to something different: a slow reduction in inequality across the economy. Incomes of people in the bottom half of income distribution grew by 4.5% in the last calendar year, much faster than the 1.2% average income growth of all Americans, according to Realtime Inequality. Between February 2020 and September 2022, average income for the lowest earning 50% of Americans increased by more than 10%, faster than all groups of population except for the top 1%.
Inside the U.S. Jobs Report: Record-Low Black Unemployment (Reuters) The Black unemployment rate hit a record low in March, a milestone for a U.S. labor market that most policymakers and economists expect to begin cooling in the face of higher interest rates. The Black unemployment rate tumbled to 5% last month from 5.7% in February, according to the Bureau of Labor Statistics. U.S. Adds a Healthy 236,000 Jobs Despite Fed's Rate Hikes (ABC News) Overall, America's employers added a solid 236,000 jobs in March and the unemployment rate fell to 3.5% suggesting that the economy remains on solid footing. Average hourly wages were up 4.2% from 12 months earlier, down sharply from a 4.6% year-over-year increase in February.
U.S. Labor Market Remains Tight, Corporate Profits Decline (Reuters) The number of Americans filing new claims for unemployment benefits rose moderately last week, showing no signs yet that tightening credit conditions were having a material impact on the tight labor market. Initial claims for state unemployment benefits increased 7,000 to a seasonally adjusted 198,000 for the week ended March 25, the Labor Department said. Economists polled by Reuters had forecast 196,000 claims for the latest week. Claims have stayed low despite high-profile layoffs in the technology industry. But the risks to the economy are mounting. Other data showed corporate profits in the fourth quarter declining by the most in five years.
U.S. Revises Down Last Quarter's Economic Growth to 2.6% Rate (Associated Press) The U.S. economy maintained its resilience from October through December despite rising interest rates, growing at a 2.6% annual pace according to the Bureau of Economic Analysis in a slight downgrade from its previous estimate. But consumer spending, which drives most of the economy's growth, was revised sharply down. The rise in the gross domestic product for the October-December quarter was down from the 3.2% growth rate from July through September. For all of 2022, the U.S. economy expanded 2.1%, down significantly from a robust 5.9% in 2021. This data suggested that the economy was losing momentum at the end of 2022.
Economic Outlook 
U.S. Consumer Confidence Improved in March (CNN) Confidence in the U.S. economy ticked up in March, despite the sudden turmoil in the banking industry, according to the latest report from the Conference Board. The business group's Consumer Confidence Index increased to 104.2 in March from an upwardly revised reading of 103.4 the month before. The March headline index saw a boost from consumers' improved levels of confidence for the six-month-ahead time frame. The Expectations Index increased to 73 from 70.4 in February, while the Present Situation Index dipped to 151.1 from 153.A reading below 80 on the Conference Board's Expectations Index often signals that a recession will occur within the next year.
Economic Pessimism Persists, With Inflation Still Key Concern (Gallup) The American public continues to rate the U.S. economy in mostly negative terms in March, with 83% describing current economic conditions as "only fair" or "poor." Just 16% consider them "excellent" or "good." Furthermore, 72% think conditions are getting worse, while 23% say they are improving. These consumer views of the nation's economy round out a highly stable first quarter, with the March results closely matching what Gallup found in January and February.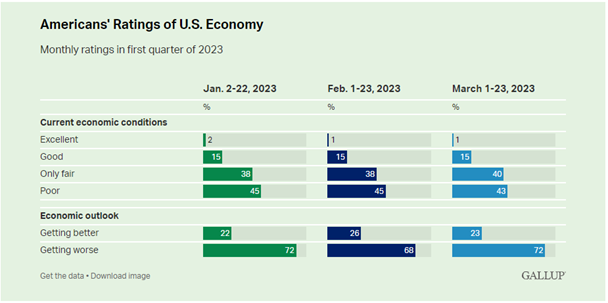 Source: Gallup Poll Social Series
SEDE News
SEDE Curriculum. New and experienced state economic development executives always make time to expand their skills and knowledge. With funding from the Economic Development Administration, SEDE and the Center for Regional Economic Competitiveness have developed a peer-led curriculum with short video modules with 12 SEDE executives discussing 18 leadership and programmatic topics. This short video approach meets the needs of busy SEDE executives and helps enhance their working relationship with EDDs. In addition to the state executives, EDA Assistant Secretary Alejandra Castillo shares her thoughts as part of the curriculum.  Check out the curriculum here!
SEDE Member Spotlight: Adriana Cruz. Adriana Cruz was named Executive Director of the (Texas) Economic Development and Tourism (EDT) Division within the Office of the Governor in 2019. As Executive Director, Cruz provides leadership to Business and Community Development, Texas Tourism, Texas Workforce Investment Council, Texas Music Office, and the Texas Film Commission. Cruz has more than 20 years of leadership experience in economic development, marketing, and international business. Prior to her appointment to lead the Texas Economic Development and Tourism Office, Cruz was President of the Greater San Marcos Partnership, the regional economic development organization established to encourage and nurture economic growth in the City of San Marcos, and Hays and Caldwell counties. Previously, Cruz was the Vice President of Global Corporate Recruitment for the Austin Chamber of Commerce. Cruz has been married for 34 years to her husband Rik and has three grown children living in the Austin area.
Office of Manufacturing and Energy Supply Chains: State Manufacturing Leadership Program FOA The Office of Manufacturing and Energy Supply Chains (MESC) is issuing a Funding Opportunity Announcement (FOA) that will support States in accelerating the deployment of smart manufacturing and high-performance computing technologies across the small- and medium-sized manufacturing firm (SMM) base. DOE expects to make a total of approximately $46 million of federal funding available for new awards under this FOA, subject to the availability of appropriated funds. Individual awards may vary between $1,000,000 and $2,000,000. DOE anticipates making approximately 20-25 awards under this FOA.
Trade
U.S. Goods Trade Deficit Widens as Exports Decline (Reuters) The U.S. trade deficit in goods widened modestly in February as exports declined, potentially setting up trade to be a small drag on economic growth in the first quarter. The trade deficit increased 0.6% to $91.6 billion. Goods exports dropped 3.8% to $167.8 billion last month with the decline led by an 11.9% plunge in shipments of motor vehicles and parts. Exports of consumer goods decreased 4.6%, while industrial supplies, which include petroleum, fell 4.2%.
USTR's Tai: Indo-Pacific Trade Talks Could See Results This Year (Reuters) U.S. Trade Representative Katherine Tai said that Indo-Pacific Economic Framework (IPEF) trade negotiations are progressing "at a very quick pace" and she expects results from the talks as early as by the end of the year. The United States and 13 Indo-Pacific countries last year launched negotiations on IPEF, Washington's first major pan-Asian trade engagement effort in nearly a decade. Countries in the IPEF talks include Australia, Brunei, Fiji, India, Indonesia, Japan, South Korea, Malaysia, New Zealand, Philippines, Singapore, Thailand, and Vietnam. Together with the United States, the participants represent some 40% of global GDP.
Industry Trends
Cummins Announces Investments of ~ $1 billion Across U.S. (Market Screener) Cummins has announced that in addition to recent investments in Fridley, the company is investing more than $1 billion across its U.S. engine manufacturing network in Indiana, North Carolina, and New York. The investment will provide upgrades to those facilities to support the industry's first fuel agnostic engine platforms that will run on low carbon fuels, including natural gas, diesel and eventually hydrogen, helping decarbonize the nation's truck fleets today. Over half of all medium- and heavy-duty trucks on the road in the U.S. today use Cummins engines. This investment is intended to retain the thousands of current engineering and manufacturing jobs and support the creation of hundreds of new jobs across the company's New York, North Carolina and Indiana footprint as Cummins invests in its people and facilities to grow innovation and manufacturing and accelerate our decarbonization efforts.
US First-Quarter Auto Sales Set to Rise on Better Inventory (Reuters) Top global automakers reported a rise in first-quarter U.S. sales on improving shipments to dealers, except for Toyota Motor Corp, which continued to grapple with parts shortage. General Motors Co, which replaced Toyota as the top U.S. automaker in 2022, posted a 17.6% rise in first-quarter auto sales. Vehicle production took a hit after the pandemic disrupted supply of semiconductor chips and other raw materials, hurting carmakers' ability to meet the upsurge in demand for personal mobility. The companies have been trying to make up for the lost production ever since as supply chain snags gradually ease. But rising interest rates and fears of a recession may play dampen growth in an industry where most vehicle purchases are financed with loans, analysts say, as they watch out for signs of plateauing demand.
Global Factory Activity Weakens as Demand Falters (Reuters) Global factory activity weakened in March as consumers feeling the pinch from rising living costs cut back, surveys showed on April 3rd, suggesting a deteriorating outlook will remain a drag on economic. U.S. manufacturing activity slumped to the lowest level in nearly three years as new orders continued to contract, according to a survey by the Institute for Supply Management (ISM). The ISM manufacturing PMI fell to 46.3 last month, the lowest reading since May 2020, from 47.7 in February. Economists polled by Reuters had forecast the index dipping to 47.5. It was the fifth straight month that the PMI remained below the 50 threshold which indicates contraction in manufacturing.
Workforce
What Has Driven the Labor Force Participation Gap since February 2020? (New York Federal Reserve) The U.S. labor force participation rate currently stands at 62.5 percent, 0.8 percentage point below its level in February 2020, immediately prior to the pandemic. This "participation gap" translates into 2.1 million workers out of the labor force. There are three channels that have affected labor force participation: an aging population, increased post-pandemic retirements, and the falling participation of workers with disabilities. Researchers found that the surge of retirement of by baby boomers explains nearly all of the drop in the nation's labor force participation.
DOE Seeks Input on Building the Solar Manufacturing Workforce (PV Magazine) The U.S. Department of Energy (DOE) Solar Energy Technologies Office (SETO) released a request for information (RFI) to better understand what is needed to build out the U.S. solar manufacturing workforce. It seeks to understand the anticipated quantity, quality, and accessibility of solar manufacturing roles, the potential challenges for filling the jobs and training the people. The Inflation Reduction Act (IRA) delivers the supportive policy needed to increase domestic manufacturing by way of an advanced manufacturing tax credit, known as Section 45X, which provides tax incentives for specific manufactured goods produced and sold in the United States. The credit lasts through 2029 and then begins to phase down.
Finance And Incentives
Biden Administration Begins First Round of Transportation Grants (Department of Transportation) The U.S. Department of Transportation announced the first round of grants totaling over $94 million for 59 projects across the country through the new Strengthening Mobility and Revolutionizing Transportation (SMART) Grants Program. The competitive grant program provides State, local, and Tribal governments $500 million over five years. The funding will support a diverse array of projects to improve worker safety, make transit more reliable, and support local business districts.
Treasury Releases Proposed Guidance on New Clean Vehicle Credit (U.S. Treasury) On March 31, the U.S. Treasury Department and the IRS released proposed guidance on the new clean vehicle provisions of the Inflation Reduction Act. The Notice of Proposed Rulemaking provides clarity and certainty to manufacturers on the Inflation Reduction Act requirements that vehicles eligible for the clean vehicle credit undergo final assembly in North America and do not exceed a Manufacturers Suggested Retail Price of $80,000 for a van, pickup truck, or sport utility vehicle, or $55,000 for any other vehicle. To be eligible for a $7,500 credit, clean vehicles must meet sourcing requirements for both the critical minerals and battery components contained in the vehicle. Vehicles that meet one of the two requirements are eligible for a $3,750 credit.
U.S. Announces $50 Million to Incentivize Smart Manufacturing (U.S. Department of Energy) The U.S. Department of Energy (DOE) announced $50 million in funding from the Infrastructure Law for states to ensure that smart manufacturing technologies and high-performance computing are more accessible by domestic manufacturing firms. This program will support all U.S. states, including Washington, D.C., and U.S. territories, in accelerating the deployment of smart manufacturing technologies by small and medium-sized manufacturers by providing financial assistance to implement smart manufacturing technologies and practices and broaden access to high-performance computing resources. DOE seeks applications for programs that will be self-sustaining long-term. Competitive funding awards of up to $2 million per state will be made over an up-to three-year period. States will be required to provide a cost match of at least 30% of the award. Applications are due May 30, 2023.
LG Announces Huge Expansion of Plans for Battery Factory in Arizona (AZ Central) LG Energy Solution said it will quadruple its initial budget for a battery manufacturing plant in Queen Creek and now plans to spend $5.5 billion for the project, which will create thousands of jobs and could become the largest stand-alone battery complex in North America. The South Korean company's lithium-ion batteries power electric vehicles, mobility devices, information technology services and energy-storage services. The complex will consist of two manufacturing facilities — one for cylindrical batteries for electric vehicles and another for lithium iron phosphate batteries for energy storage systems. Production is expected to start in 2025.
Toyota Boshoku Announces Plans for $225 Million 'Smart Plant' in Kentucky (WDRB) Toyota Boshoku (TBA) plans to build a $225 million facility in Hopkinsville. Kentucky Gov. Andy Beshear's office said the 365,400-square-foot structure will be built on 49 acres in Christian County. It will be the first TBA plant in the world considered a "Smart Plant," which means it will utilize "advanced robotics, planning and automation streamline processes, reduce waste and enhance productivity to maximize efficiency and operations," Beshear's office said. TBA plans to create 157 "quality" jobs for Kentuckians at the plant, which is scheduled to open in August 2024.
Hounen Solar Establishing First U.S. Operations in South Carolina (Governor.SC.Gov) Hounen Solar (Hounen), a global solar panel manufacturer, today announced plans to establish its first United States manufacturing operations in Orangeburg County, South Carolina. The company's $33 million investment will create 200 new jobs. Hounen manufactures solar photovoltaic (PV) panels worldwide, serving the clean energy market. In addition to solar panels, the company creates other electrical products. Hounen's plans include leasing a 200,720-square-foot plant, marking the company's first manufacturing operations in the U.S and first South Carolina location. The Orangeburg County facility will allow the company to develop, manufacture and sell one gigawatt (GW) crystalline silicon PV panels in the U.S.
Flender Corporation to Expand Manufacturing Facility in Illinois (Illinois.Gov) Governor JB Pritzker, Flender Corporation and the Illinois Department of Commerce and Economic Opportunity (DCEO) announced that Flender will expand its current manufacturing facility in Elgin – creating 50 new full-time jobs and retaining 140 existing full-time jobs. Flender Corporation – which has had a manufacturing presence in Illinois since 1976 – is a leading global manufacturer of mechanical gears for industrial applications, including wind turbines. Flender's drive components are installed in approximately thirty percent of wind turbines worldwide. The Flender Elgin Facility supplies and repairs gearboxes that are vital to the critical infrastructure needs of North America including renewable energy.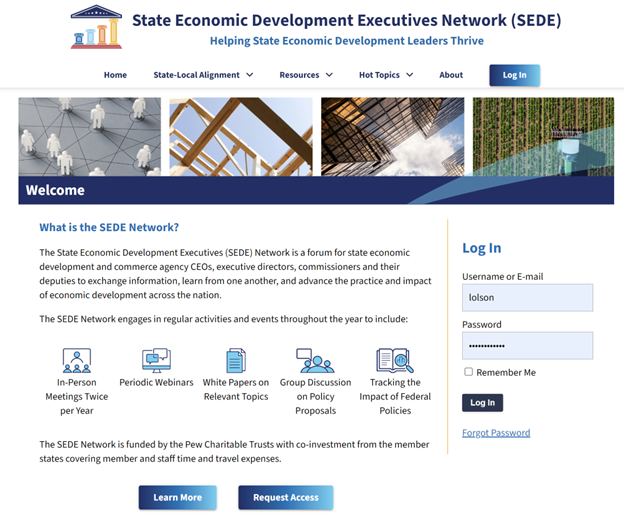 The State Economic Development Executives (SEDE) Network engages in regular events throughout the year. State Economic Development.org lists these activities and offers an interactive forum for discussion among peers. The website is currently undergoing some minor reorganization, including adding resources on how state and local economic development districts can align strategies and collaborate on activities.
The SEDE Steering Committee includes: Sandra Watson (AZ), Chair; Don Pierson (LA), Vice-Chair; Kurt Foreman (DE); Kevin McKinnon (MN); Christopher Chung (NC); Alicia Keyes (NM); Andrew Deye (OH); Sophorn Cheang (OR); Adriana Cruz (TX); Joan Goldstein (VT); and Mike Graney (WV).
Leif Olson of the Center for Regional Economic Competitiveness (CREC) led the development of this Bulletin; for questions on the content in this Bulletin or for information on the SEDE Network contact Bob Isaacson, CREC Senior Vice President.