State Economic Development Bulletin 
Headlines 
Economic Performance 
The Fed Raises Interest Rates by Only a Quarter-Point After Inflation Drops (NPR)
Fed Loan Officer Survey Finds Tighter Loan Standards, Reduced Demand (Reuters)
US Inflation Slows To 6.4%, But Price Pressures Re-Emerge (Associated Press)
Atlanta Fed Research Examines Racial Disparities in Mortgage Refinancing (Fed of Atlanta)
Economic Outlook
U.S. Consumer Confidence Lags As 2023 Gets Under Way (Associated Press)
What Recession? Some Economists See Chances of a Growth Rebound (New York Times)
Federal Reserve Issues FOMC Statement (Federal Reserve)
Trade
America's Trade Deficit Surged in 2022, Nearing $1 Trillion (New York Times)
Germany's Habeck Optimistic EU And U.S. Can Reduce Trade Tension (Reuters)
Chinese Chip Trade Group Opposes Export Controls from U.S., Netherlands, Japan (Reuters)
Industry Trends
U.S. Service Sector Rebounds in January – ISM Survey (Reuters)
U.S. Manufacturing Sector Sinks Further in January (Reuters)
Workforce
U.S. Department of Labor Again Cites Missouri Cattle Processor for Potentially Lethal CO2 Levels (DOL)
AFL-CIO Wants Bigger Say in U.S. Digital Trade Deals for Workers (Reuters)
Unemployment Is Low, But So Is the Labor Force Participation Rate (Forbes)
Workforce Layoffs 2023: Big Tech's Loss is Another Industry's Gain (Forbes)
With High-Tech Manufacturing Jobs in Ohio, Workforce Developers Race to Get Ready (Brookings)
Finance And Incentives
HyRel Technologies Commences Operations at Manufacturing Facility in Peoria (AZCommerce)
New Oregon Coastal Protections Will Help Nature and Communities (Pew)
Tennessee Announces $447 Million In Broadband Infrastructure Investments (The Rogersville Review)
New York Announces $22 Million for Regional Economic Development Initiative (New York State)
What States Need to Know About Federal Funding for High-Speed Internet (Pew)
---
Economic Performance
The Fed Raises Interest Rates by Only a Quarter-Point After Inflation Drops (NPR) The Federal Reserve raised interest rates by a quarter percentage point, its eighth increase in less than a year, as the central bank continues its crackdown on inflation. The hike in the Fed's benchmark rate is the smallest since last March and may signal that policymakers are shifting to a more cautious approach. Consumer spending has cooled in recent months and inflation has dropped significantly, although prices are still climbing. "It's the early stages of disinflation," Fed chairman Jerome Powell told reporters. "And it's most welcome to be able to say that. But we just see that it has to spread through the economy and it's going to take some time."
Fed Loan Officer Survey Finds Tighter Loan Standards, Reduced Demand (Reuters) Lending officers at major banks told the Federal Reserve that in the final three months of last year they tightened standards and saw reduced demand across a wide array of business and consumer credit fronts. On the consumer front, survey respondents to the January Senior Loan Officer Opinion survey reported that real estate and related lending standards got tighter amid declining demand for the same period. The same dynamic played out for auto, credit card and other types of consumer lending. The survey also found that trends in late 2022 may carry into 2023, "Banks, on balance, reported expecting lending standards to tighten, demand to weaken, and loan quality to deteriorate across all loan types."
U.S. Inflation Slows To 6.4%, But Price Pressures Re-Emerge (Associated Press) The pace of consumer price increases eased again in January compared with a year earlier, the latest sign that the high inflation that has gripped Americans for nearly two years is slowly easing. Consumer prices climbed 6.4% in January from a year earlier, down from 6.5% in December. It was the seventh straight year-over-year slowdown and well below a recent peak of 9.1% in June. Yet it remains far above the Federal Reserve's inflation target. Core prices rose 5.6% from a year ago, down just a tick from December's 5.7%.
Atlanta Fed Research Examines Racial Disparities in Mortgage Refinancing (Fed of Atlanta) Black homeowners were largely absent from the surge of borrowers who refinanced their mortgages to lower rates during the COVID-19 pandemic, though recent research by the Atlanta Federal Reserve shows the group benefitted from other measures that eased foreclosure pressures during the economic downturn. Researchers determined the total annual savings for mortgages refinanced by October 2020 was about $5 billion. Black households are to reap an estimated $198 million of the amount while White households account for an estimated $3.8 billion.
---
Economic Outlook
U.S. Consumer Confidence Lags As 2023 Gets Under Way (Associated Press) The Conference Board reported Tuesday that its consumer confidence index slipped to a still-optimistic 107.1 in January, down from 109 in December. Last month's reading was the highest the index has reached since April. However, the board's expectations index — a measure of consumers' six-month outlook for income, business, and labor conditions — deteriorated to 77.8 in January from 83.4 in December. A reading under 80 often signals a recession in the coming year, the Conference Board said. The Board added that consumers' intention to buy big-ticket items like cars held steady but plans to purchase homes fell even further with higher interest rates and home prices.
What Recession? Some Economists See Chances of a Growth Rebound (New York Times) Many economists expected a slowdown and potential recession going into 2023. But the recession calls are now getting a rethink. Employers added more than half a million jobs in January, the housing market shows signs of stabilizing or even picking back up, and many Wall Street economists have marked down the odds of a downturn this year. Not every data point looks sunny: Manufacturing remains glum, consumer spending has been cracking, and some analysts still think a mild recession this year remains likely. But there have been enough surprises pointing to continued momentum that Fed officials themselves seem to see a better chance that the nation will avoid a painful downturn.
Federal Reserve Issues FOMC Statement (Federal Reserve) Recent indicators point to modest growth in spending and production. Job gains have been robust in recent months, and the unemployment rate has remained low. Meanwhile, inflation has eased somewhat but remains elevated and Russia's war against Ukraine is contributing to elevated global uncertainty. The Committee seeks to achieve maximum employment and inflation at the rate of 2 percent over the long run. In support of these goals, the Committee decided to raise the target range for the federal funds rate to 4.5% to 4.75%. The Committee anticipates that ongoing increases in the target range will be appropriate to attain a stance of monetary policy that is sufficiently restrictive to return inflation to 2% over time.
---
Trade
America's Trade Deficit Surged in 2022, Nearing $1 Trillion (New York Times) The overall U.S. trade deficit rose 12.2% last year, nearing $1 trillion as Americans purchased large volumes of foreign machinery, medicines, industrial supplies, and car parts, according to data released by the Commerce Department. The goods and services deficit reached $948.1 billion, its largest total on record, after rising $103 billion from the previous year. The data showed evidence of the U.S. economy's continuing recovery from the pandemic, which had held down spending on services like travel and entertainment and pushed up purchases of imported goods. Rapid inflation and higher energy prices were responsible for some of the growth, because the trade data is not adjusted for inflation.
Germany's Habeck Optimistic EU And U.S. Can Reduce Trade Tension (Reuters) German Economy Minister Robert Habeck expressed optimism about resolving a European Union trade dispute with Washington, saying he saw room for compromise on certain elements of the U.S. Inflation Reduction Act and its green subsidies. Many EU leaders are worried the local content requirements of $369 billion of green subsidies in the U.S. Inflation Reduction Act will encourage companies to relocate, making the United States a leader in green tech at Europe's expense. U.S. Treasury Secretary Janet Yellen will be meeting with Habeck along with French Finance Minister Bruno Le Maire as part of Washington's "ongoing and sustained engagement" on the Inflation Reduction Act and the European Union's Green Deal Industrial Plan, a Treasury official said.
---
Industry Trends
U.S. Service Sector Rebounds in January – ISM Survey (Reuters) U.S. services industry activity rebounded strongly in January, with new orders recovering and prices paid by businesses for materials continuing to rise at a moderate pace, hopeful signs for the economy as it braces for a possible recession this year. The Institute for Supply Management (ISM) said on Friday its non-manufacturing PMI increased to 55.2 last month. The ISM survey's gauge of new orders received by services businesses increased to 60.4 in January from 45.2 in December. A measure of prices paid by services industries for inputs dropped to 67.8 from 68.1 in December as supply bottlenecks continued to ease.
U.S. Manufacturing Sector Sinks Further in January (Reuters) U.S. manufacturing contracted further in January as higher interest rates stifled demand for goods, but factories did not appear to be laying off workers in large numbers. The Institute for Supply Management (ISM) said on Wednesday that its manufacturing PMI dropped to 47.4 last month from 48.4 in December. The third straight monthly contraction pushed the index to the lowest level since May 2020 and below the 48.7 mark viewed as consistent with a recession in the broader economy.
---
Workforce
AFL-CIO Wants Bigger Say in U.S. Digital Trade Deals for Workers (Reuters) The AFL-CIO wants a bigger say in how the U.S. Trade Representative's office (USTR) sets goals in digital trade, arguing they are too often dictated by big technology companies. The largest U.S. labor organization on Tuesday issued a set of principles that it says is needed to protect workers, the public's privacy, and government's ability to regulate a rapidly evolving sector as the USTR negotiates digital trade agreements. U.S. Trade Representative Katherine Tai has pledged to create a "worker-centric" trade policy, but the AFL-CIO said digital trade negotiations too often make no mention of labor standards nor the workers who write software or support networks.
Unemployment Is Low, But So Is the Labor Force Participation Rate (Forbes) Recently, the unemployment rate has been low despite rounds of layoffs at tech companies and fears of a recession. Since December 2021, the official unemployment rate has dropped from 3.9% to 3.5%. Other measures of unemployment have also dropped, with the U-6 rate falling from 7.3% to 6.5%. The U-6 measures all unemployed plus those who are willing to work, but who have not looked in the past four weeks plus those who are employed part-time for economic reasons.
However, since the start of the pandemic, the labor force participation rate has remained below historical levels. There are a few explanations for the low labor force participation rate:
Increased dependent care needs
Fear of getting COVID
Higher unemployment benefits
Desire for higher wages reducing interest in low-paying jobs
Higher pace of retirements due to an aging population
Slower population growth
Workforce Layoffs 2023: Big Tech's Loss is Another Industry's Gain (Forbes) Instead of being alarmed by layoffs that totaled over 150,000 by late 2022 and continue to grow, market watchers see those workers as a healthy boon for innovation across other sectors. Some laid off workers could find a warm welcome at startups desperately in need of their expertise for long-term growth. According to the International Data Corporation (IDC), by 2024, companies offering frontline workers democratized access to digital collaboration, process automation and similar tools will see a 20% increase in revenues due to improved productivity. These analysts expect the business benefits of technology to increase over time. They said that driven by skills shortages, CIOs investing in digital adoption platforms and automated learning technologies will see a 40% increase in productivity by 2025 delivering greater speed to expertise.
With High-Tech Manufacturing Jobs in Ohio, Workforce Developers Race to Get Ready (Brookings) The CHIPS and Science Act appropriates $39 billion to subsidize the construction or expansion of U.S. fabrication plants for logic and memory components and mature-technology semiconductors. Ohio's Columbus region —site of the first new fabrication plant associated with the CHIPS Act—is one place to look for ideas on how to deliver accessible semiconductor manufacturing jobs. There, construction of Intel's $20 billion facility is already underway, as are local leaders' plans for innovating and scaling the region's workforce training pipeline. To design and build a statewide strategy that meets the expansive needs of Intel's technicians and suppliers, Columbus State Community College (CSCC) partnered with the Ohio Association of Community Colleges to recruit and train workers from community colleges across all corners of Ohio. Under this statewide strategy, CSCC has adopted two distinct training priorities. First is a short-term certificate program for upskilling existing workers; second is a curriculum-enhancement approach to widen job prospects in the long term.
---
Finance And Incentives
HyRel Technologies Commences Operations at Manufacturing Facility in Peoria (AZCommerce) HyRel Technologies, a global provider of quick turn semiconductor modification solutions, announced it has commenced operations of its manufacturing facility in Peoria, Arizona, creating 50 new jobs. Representing a $15 million investment, the custom 20,000-square-foot facility will be geared towards touchless robotic processing systems for microelectronic components, semiconductors, tape and reel, component recovery, and contract manufacturing services. HyRel provides services to aerospace, defense, medical, industrial, commercial, and original equipment manufacturers. HyRel is also focused on industry-leading tin-mitigation processes, utilizing their unique micro robotic systems.
New Oregon Coastal Protections Will Help Nature and Communities (Pew) After more than three years of collaboration among coastal residents, community groups, and policymakers, Oregon's Ocean Policy Advisory Council (OPAC) approved new conservation designations for six rocky intertidal and offshore areas on Dec. 9. These designations will increase state agency attention to managing these areas, and because the designation process galvanized community leaders, they should also enhance collaboration between state agencies and local communities. The designations also will make it easier for the state to secure future funding and protection for these areas.
Tennessee Announces $447 Million In Broadband Infrastructure Investments (The Rogersville Review) The Governor of Tennessee announced on January 21st that the government will award $446.8 million in grants for the expansion of internet access across the state. In total, the broadband infrastructure grants will provide broadband access to more than 150,000 unserved homes and businesses across 58 counties. According to the 2020 Broadband Deployment Report published by the Federal Communications Commission (FCC), one in six rural Tennesseans lacks access to broadband. Funding for these grants comes through the Tennessee Emergency Broadband Fund – American Rescue Plan (TEBF-ARP), which utilizes a portion of the state's federal American Rescue Plan funds. Tennessee's Fiscal Stimulus Accountability Group dedicated $500 million to broadband funding from this program, with more than $446 million going to infrastructure and nearly $50 million going to broadband adoption and digital literacy efforts.
New York Announces $22 Million for Regional Economic Development Initiative (New York State) Over $22 million has been awarded to support 21 projects across New York State through the Regional Economic Development Council initiative. Round XII included core capital grant and tax-credit funding from Empire State Development, which was made available on a continuous and competitive basis to support the immediate needs of communities. The application for ESD Grant funds remains open, and applications are being reviewed on an on-going basis until funds are exhausted. Applicants with strong, shovel-ready projects that align with the state and region's economic development priorities can apply through the Consolidated Funding Application.
What States Need to Know About Federal Funding for High-Speed Internet (Pew) In November 2021, President Joe Biden signed the Infrastructure Investment and Jobs Act into law which established the Broadband Equity, Access, and Deployment (BEAD) Program. BEAD dedicates more than $42 billion to construct broadband networks, establish subsidies to offset the cost of internet service for lower-income households, and create programs to provide end users with the devices and training. BEAD spending should prioritize:
Fiber connectivity directly to the end user.
Unserved locations—those without access to 25-megabit-per-second (Mbps) download service and 3-Mbps uploads, commonly expressed as 25/3-Mbps service.
"Proposals that improve affordability to ensure that networks built using taxpayer dollars are accessible to all Americans.
Congress split BEAD funding into three formula-based allocations: minimum, high-cost, and remaining funds. The minimum allocation to states, Washington, D.C., and Puerto Rico will be $100 million each; other U.S. territories will receive minimum allocations of $25 million. The NTIA will allocate the remaining funds based on the ability of individual states and territories to provide broadband to unserved areas that meets the minimum project criteria outlined earlier.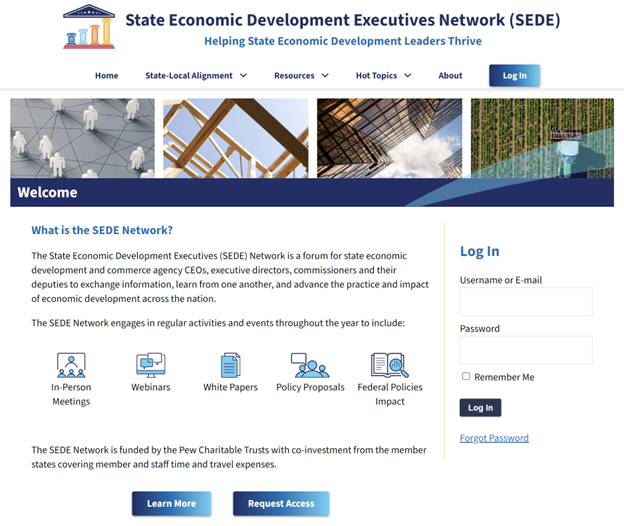 The State Economic Development Executives (SEDE) Network engages in regular events throughout the year. State Economic Development.org lists these activities and offers an interactive forum for discussion among peers. The website is currently undergoing some minor reorganization, including adding resources on how state and local economic development districts can align strategies and collaborate on activities.
The SEDE Steering Committee includes: Sandra Watson (AZ), Chair; Don Pierson (LA), Vice-Chair; Mike Preston (AR); Kurt Foreman (DE); Kevin McKinnon (MN); Christopher Chung (NC); Alicia Keyes (NM); Andrew Deye (OH); Sophorn Cheang (OR); Adriana Cruz (TX); Joan Goldstein (VT); Lisa Brown (WA) and Mike Graney (WV).
Leif Olson of the Center for Regional Economic Competitiveness (CREC) led the development of this Bulletin; for questions on the content in this Bulletin or for information on the SEDE Network contact Bob Isaacson, CREC Senior Vice President.