State Economic Development Bulletin 
Headlines 
Economic Performance 
U.S. Employers Added 263,000 Jobs in November (New York Times)
U.S. Revises Up Last Quarter's Economic Growth To 2.9% Rate (ABC News)
U.S. Hiring Stays Strong, Complicating Fed's Inflation Fight (Associated Press)
Economic Outlook
Prices Cooled Last Month, Raising Hopes That Inflation Is Easing (Washington Post)
Powell: Fed to Keep Rates Higher for Longer to Cut Inflation (Associated Press)
U.S. Fed Policy Now More Hawkish Than Policy Rules Suggest Is Needed (Reuters)
SEDE News 
SEDE Hosts Meeting for Top Executives
Trade
Tax Credits for EU Electric Vehicles to Dominate U.S. Trade Talks (Reuters)
Mexico Tells U.S. It Wants to Keep Talking on Trade Disputes (Associated Press)
Industry Trends
U.S. Factory Orders Beat Expectations in October (Reuters)
U.S. Services Industry Regains Steam; Factory Orders Accelerate (Reuters)
Trade Group Predicts Trouble Ahead for U.S. Chemical Industry (C&EN)
Workforce
Rail Workers Say Deal Won't Resolve Quality-Of-Life Concerns (Associated Press)
$981 Million Investment to Expand Opportunities for Rural Businesses (USDA)
Long Covid Is Distorting the Labor Market (CNBC)
Finance And Incentives
Inflation Is Cutting into States' Big Infrastructure Windfall (Pew Charitable Trusts)
ARC: 'Billions' Coming to Coal Communities from Feds (West Virginia News)
Dept Of Energy Issues Funds to Expand Domestic Sources of Lithium (Global Mining Review)
Largest Landfill Solar Project in North America Completed in Mt. Olive (New Jersey Business Magazine)
Abbott Laboratories To Build $536M Plant In Ohio To Produce Powder Formula (abc6onyourside.com)
Virginia Taps Electric Companies to Help Expand Rural Broadband Access (Pew Charitable Trusts)
Economic Performance  
U.S. Employers Added 263,000 Jobs in November (New York Times) U.S. employers created 263,000 jobs in November, even as a wave of layoffs in the tech industry made headlines. The labor market has been surprisingly resilient in the face of successive interest rate increases by the Fed, adding an average of 323,000 jobs for the last six months. Growth is now largely coming from service sectors like education, health care and hospitality, which powered November's job gains. Hiring in industries most sensitive to rising borrowing costs, like construction and manufacturing, have started to level off, and workers have put in fewer hours during the average week.
U.S. Revises Up Last Quarter's Economic Growth To 2.9% Rate (ABC News) Despite high interest rates and inflation, the U.S. economy grew at a 2.9% annual rate from July through September in a healthy upgrade from its initial estimate. Economists expect the economy to eke out modest 1% annualized growth from October through December, according to a survey of forecasters conducted by the Federal Reserve Bank of Philadelphia. The nation's manufacturing sector is slowing despite an easing of supply chains that had been backlogged since the economy began rebounding from the pandemic recession two years ago. Inflation is also threatening to weaken the crucial holiday shopping period. Retailers say inflation-weary shoppers are shopping cautiously, with many holding out for the most attractive bargains.
U.S. Hiring Stays Strong, Complicating Fed's Inflation Fight (Associated Press) The nation's employers kept hiring briskly in November despite high inflation and a slow-growing economy — a sign of resilience in the face of the Federal Reserve's aggressive interest rate hikes. However, there were some signs of weakness in Friday's hiring figures: Retailers, transportation and warehousing companies all cut jobs as did temporary staffing agencies. Temp employment, often seen as a leading indicator of hiring, has declined for three straight months. As a result, more than half the job growth last month — 170,000 — came from just two large industries: Education and health care, and a category made up mostly of restaurants, hotels, and entertainment firms. These sectors are still replacing workers who were lost during the pandemic. Most other industries have surpassed their pre-pandemic levels of employment. Signs of weakness have sparked concerns about a likely recession next year, in part because many fear that the Fed's surging rate hikes will end up derailing the economy.
Economic Outlook 
Prices Cooled Last Month, Raising Hopes That Inflation Is Easing (Washington Post) Data by the Bureau of Labor Statistics showed that prices rose 7.1 percent in November compared to last year, and 0.1 percent over October. Those figures are too high for a healthy economy, but they showed further progress since the most recent inflation report, offering policymakers and the American public fresh hope that the Fed's aggressive moves to tame inflation are paying off. The latest inflation data comes as the Federal Reserve convenes for its final meeting of the year.  The Fed will  release a fresh set of internal projections showing how much further rates could climb and how long borrowing costs may stay high. The central bank's baseline rate is expected to eclipse 5 percent before they pause hikes sometime next year.
Powell: Fed to Keep Rates Higher for Longer to Cut Inflation (Associated Press) The Federal Reserve will push rates higher than previously expected and keep them there for an extended period, Fed Chair Jerome Powell noted in remarks likely intended to underscore the Fed's single-minded focus on combating stubborn inflation. In a speech at  Brookings Powell  stressed that smaller hikes shouldn't be taken as a sign the Fed will let up on its inflation fight anytime soon. "It is likely that restoring price stability will require holding (interest rates) at a restrictive level for some time," Powell said. "History cautions strongly against prematurely loosening policy."
U.S. Fed Policy Now More Hawkish Than Policy Rules Suggest Is Needed (Reuters) Federal Reserve interest rate policy has moved beyond the level called for by commonly followed monetary policy rules, according to a report released by the Cleveland Fed, pointing to how hawkish the central bank has become in its inflation battle. The Fed's short-term rate target should be at 3.52% in the final quarter of the year, according to the bank's latest quarterly estimate of where the key central bank rate should be based on seven different rules. This estimate is under the current 3.75% to 4% federal funds rate setting. Some Fed officials have said the target should rise to around 5% by next year. The Cleveland Fed report also said policy rules say the federal funds rate should be at 4.08% in the final quarter of next year and at 4.29% in the fourth quarter of 2024.
SEDE News 
SEDE Hosts Meeting for Top Executives. The State Economic Development Executives (SEDE) Network is building on the success of the June 2022 meeting by holding a Winter 2023 meeting for state leaders in New Orleans. The meeting will begin at noon on Monday, February 27th and conclude at noon on Tuesday, February 28th, 2023.  SEDE Steering Committee Vice-Chair Don Pierson and the Louisiana Economic Development team are hosting the meeting and have scheduled a tour of the NASA Michoud Assembly Facility. The agenda will include discussions of hot issues facing states and many opportunities for networking among the state economic development commissioners, secretaries and executive directors or their top deputies. More information and registration forthcoming.
Upcoming SEDE Webinar: In the coming months, the SEDE Network will be hosting a webinar on supply chain resilience and sustainability featuring three content experts (TBD). Keep a lookout for more information on the SEDE Website!
Trade
Tax Credits for EU Electric Vehicles to Dominate U.S. Trade Talks (Reuters) The United States and the European Union cited progress addressing EU concerns about a U.S. climate law that would cut off the bloc's electric vehicles from U.S. tax credits but failed to resolve the matter. They issued a joint statement after the third ministerial-level of the U.S.-EU Trade and Technology Council (TTC) vowed to work constructively to resolve it. Officials agreed on a "joint roadmap" to assess trustworthy artificial intelligence technologies and set up a task force to reduce research barriers related to quantum computing science and technology. They also agreed to support connectivity projects in Jamaica and Kenya, with an eye to expanding such work in other third world countries and pledged to boost transparency about public subsidies to the semiconductor sector going forward.
Mexico Tells U.S. It Wants to Keep Talking on Trade Disputes (Associated Press) Mexico's economy secretary on Thursday proposed another round of talks with the United States on a dispute over Mexico's energy sector. Mexico hopes to stave off a full-fledged trade complaint under the U.S.-Mexico-Canada trade agreement. The United States says Mexico is unfairly favoring its state-owned electricity and oil companies over American competitors and clean-energy suppliers. Canada has also joined in that complaint. U.S. Trade Representative Katherine Tai appeared willing to keep talking, but her office said she "underscored the urgency of prompt and meaningful progress in our ongoing consultations" at a recent meeting with Mexican Economy Secretary Raquel Buenrostro.
Industry Trends
U.S. Factory Orders Beat Expectations in October (Reuters) New orders for U.S.-manufactured goods increased more than expected in October amid strong gains in demand for machinery and a range of other goods, which could allay concerns of a sharp slowdown in manufacturing. The Commerce Department said that factory orders jumped 1.0% after rising 0.3% in September. Economists polled by Reuters had forecast orders advancing 0.7%. Orders shot up 12.8% on a year-on-year basis in October. An Institute for Supply Management survey last week showed its measure of the nation's factory activity contracted in November for the first time in 2-1/2 years. Manufacturing accounts for 11.3% of the U.S. economy and fuels economic impacts in other sectors. October's jump in factory orders was driven by a 2.2% rise in bookings for transportation equipment, which followed a 2.3% increase in September. Transportation equipment orders were boosted by increases in orders for both defense and civilian aircraft. Motor vehicle orders rebounded 1.7%.
U.S. Services Industry Regains Steam; Factory Orders Accelerate (Reuters) U.S. services industry activity unexpectedly picked up in November, with employment rebounding, offering more evidence of underlying momentum in the economy as it braces for an anticipated recession next year. The survey from the Institute for Supply Management (ISM) on Monday followed on the heels of news that the economy continued to create jobs at a solid clip in November, with wage growth accelerating. Consumer spending also rose strongly in October. The flow of strong data raises the risk that the Federal Reserve will continue hiking interest rates and lift its policy rate to a higher level than the recently projected 4.6%, where it could stay for some time.
Trade Group Predicts Trouble Ahead for U.S. Chemical Industry (C&EN) The U.S. economy will experience a "shallow recession" early next year, contributing to a slump for the nation's chemical sector, according to a forecast from the American Chemistry Council (ACC), an industry trade group. "We're seeing recessionary conditions start to take hold," Moore said. "Decades-high inflation is really underlying all of this." It has eroded household purchasing power and has prompted interest rate hikes by the Federal Reserve that will dampen economic growth. Higher interest rates on mortgages are increasing the cost of borrowing to buy homes. "So, we're going to see a continuation of the downturn in housing," Moore said. The ACC expects that U.S. housing starts, a big outlet for chemical products, will decline from 1.6 million in 2022 to 1.3 million in 2023.
Workforce
Rail Workers Say Deal Won't Resolve Quality-Of-Life Concerns (Associated Press) President Joe Biden signed a bill Friday December 2nd, to block a strike and force workers to accept the agreements union leaders made in September, even though four of the 12 unions — which include a majority of rail workers — voted to reject them. Business groups had been urging Biden to intervene for weeks. The five-year deals that rail workers wound up with include 24% raises and $5,000 in bonuses. The railroads agreed to offer three unpaid days for engineers and conductors to tend to medical needs as long as they are scheduled at least 30 days in advance. They also promised to negotiate further to improve the way regular days off are scheduled to help workers better know when they will be off.
$981 Million Investment to Expand Opportunities for Rural Businesses (USDA) On December 6th, U.S. Department of Agriculture (USDA) Secretary Tom Vilsack announced that the Department is investing $981 million to help create new and better market opportunities and expand essential services for rural people, businesses, and entrepreneurs in 47 states, Guam and the Virgin Islands. The funding will include affordable financing and technical assistance. It is designed to help rural Americans start businesses and assist small business owners. The USDA investment includes 242 awards through eight programs designed to create economic opportunities for people and businesses in rural areas. These programs are the Biofuel Producer Relief Payments Program, Business and Industry (B&I) Loan Guarantees, Community Facilities Guaranteed Loan Program, Rural Cooperative Development Grant Program, the Rural Economic Development Loan and Grant Program, Rural Innovation Stronger Economy Grants program, the Rural Microentrepreneur Assistance Program, and the Water and Waste Disposal Loan Guarantees.
Long Covid Is Distorting the Labor Market (CNBC) At a time when job openings are near an all-time high, long Covid is reducing the supply of people able to fill those positions. Economic models suggest that hundreds of thousands of people and potentially millions are out of work because of long-haul symptoms after a Covid infection. "At a minimum, long Covid is adding a lot of uncertainty to an already very uncertain economic picture," Paige Ouimet, an economist and finance professor at the University of North Carolina, wrote in September. According to economists Gopi Shah Goda and Evan Soltas, the average work absence from long Covid translates to $9,000 in foregone earnings over a 14-month period — representing an 18% reduction in pay during that time. In aggregate, the lost labor supply amounts to $62 billion a year — equivalent to half the lost earnings attributable to illnesses like cancer or diabetes.
Finance and Incentives
Inflation Is Cutting into States' Big Infrastructure Windfall (Pew Charitable Trusts) States have been seeing 20% to 40% hikes in project costs, depending on the region and materials, said Susan Howard, director of policy and government relations at the American Association of State Highway and Transportation Officials. "You have to settle for less or use this money for projects on track that you already planned to do, instead of the dream projects you haven't realized." The cost of asphalt, for example, was up more than 20% in October 2022, compared with October 2021, according to the Associated General Contractors of America, a construction industry trade group. Concrete costs rose 14%, and fabricated structural metal for bridges jumped more than 23% during that period. Transportation officials say supply chain disruptions also are extending the time it takes to get and deliver materials and equipment.
ARC: 'Billions' Coming to Coal Communities from Feds (West Virginia News) Massive economic opportunities are available for rural energy communities according to Gayle Manchin, the co-chair of the Appalachian Regional Commission (ARC). Manchin was in Wheeling Wednesday at Northern Community College and met with state and federal leaders representing a variety of government agencies. She and other panelists outlined approximately $200 billion of what was called a "once-in-a-generation investment" targeted at coal-impacted communities. Increases in funding are anticipated for everything from water and sewage projects, brownfield cleanup, and mineland reclamation, to small business support and regionally collaborative economic development.
Dept Of Energy Issues Funds to Expand Domestic Sources of Lithium (Global Mining Review) The U.S. Department of Energy (DOE) has issued a $12 million Funding Opportunity Announcement (FOA) to support the extraction and conversion of lithium from geothermal brines to use in batteries for stationary storage and electric vehicles (EVs). This investment will support projects that strengthen and diversify the lithium supply chain—an important step on the path to achieving the goal of a net-zero clean energy economy by 2050 and 50% EV adoption by 2030. Geothermal brines are a by-product of clean, geothermal power that contain a host of minerals, including lithium. This funding opportunity will support technologies to directly extract battery-grade lithium from geothermal brines – providing a cost-effective, domestic source of this critical material.
Largest Landfill Solar Project in North America Completed in New Jersey (New Jersey Business Magazine) CEP Renewables, along with CS Energy, Terrasmart, Lindsay Precast and NJR Clean Energy Ventures, announced the completion of the largest landfill solar project in North America. The 25.6 megawatt solar project, located in Mount Olive, has enabled the township to recoup nearly $2.3 million in past taxes while at the same time transitioning the former Combe Fill North Landfill Superfund site into a revenue-generating, clean energy asset. This structure was entirely unique and resulted in the project winning the 2021 Award for Innovation in Governance from the New Jersey League of Municipalities.
Abbott Laboratories To Build $536 Million Plant In Ohio To Produce Powder Formula (abc6onyourside.com) Ohio Gov. Mike DeWine announced Thursday that Abbott Laboratories plans to build a new powder-formula plant in Ohio that will cost $536 million and will create 450 permanent jobs. The facility will be built in Bowling Green and will produce specialty and metabolic powder nutritional products. State and local incentives still need to be approved, but the plan is to break ground in 2023 and complete construction in 2026. JobsOhio plans to provide assistance for the project.
Virginia Taps Electric Companies to Help Expand Rural Broadband Access (Pew Charitable Trusts) Virginia is one of the first states to employ a strategy through its Utility Leverage Program, which aligns the state's broadband goals with efforts to modernize its electrical infrastructure to successfully expand broadband service into areas that lack access. Launched as a pilot in 2019, the program provides a mechanism for investor-owned utilities to lease fiber capacity to ISPs in unserved areas in the state. The program focuses on facilitating "middle-mile" connections—the part of a network that links the large fiber optic pipes that are the main data routes for the internet (called the "backbone"), with the "last mile," which is the network segment built by ISPs that connects a local ISP to a customer. Virginia's model leverages planned upgrades to electric infrastructure in hard-to-reach areas to expand middle-mile capacity. This approach enables ISPs to devote money to last-mile connections that they otherwise would have spent on costly middle-mile infrastructure and allows the Virginia Telecommunications Initiative (VATI), the state's grant program for last-mile connections, to fund more projects. Virginia's General Assembly made the program permanent in 2021 and has since seen it yield several successful middle-mile partnerships between investor-owned utilities, ISPs, and localities.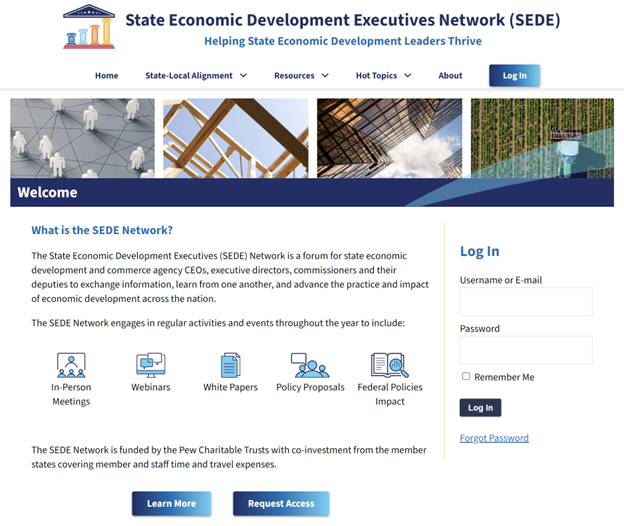 The State Economic Development Executives (SEDE) Network engages in regular events throughout the year. State Economic Development.org lists these activities and offers an interactive forum for discussion among peers. The website is currently undergoing some minor reorganization including adding resources on how state and local economic development districts can align strategies and collaborate on activities.
The SEDE Steering Committee includes: Sandra Watson (AZ), Chair; Don Pierson (LA), Vice-Chair; Mike Preston (AR); Kurt Foreman (DE); Kevin McKinnon (MN); Christopher Chung (NC); Alicia Keyes (NM); Michael Brown (NV); Andrew Deye (OH); Sophorn Cheang (OR); Adriana Cruz (TX); Joan Goldstein (VT); Lisa Brown (WA) and Mike Graney (WV).
Leif Olson of the Center for Regional Economic Competitiveness (CREC) led the development of this Bulletin; for questions on the content in this Bulletin or for information on the SEDE Network contact Bob Isaacson, CREC Senior Vice President.